Pin
The madness of cookie butter, the well known one being Biscoff is real! Here, you will find it being used in every imaginable dessert. My first tryst of it was in a milkshake. It was really thick and so calorific that it gave me a spike for quite some time. 😀 You will find it in freak-shakes, filled in crepes and even drizzled on it with a crushing of the Lotus cookies, in cakes, in ice creams, in what not! I used to love it initially when I bought it, but now as is with everything, the craze has gone down. I do stock it to spread it on toast for the kids and for B to have his occasional spoonful when he gets bored of Nutella. 😀 But I prefer it in my cooking as it gives a very nice hue. I have used it in granola, in my chia pudding, in hot chocolate (awesomely delicious!), in these vegan ice treat and some vegan bakes like this muffin and this cheesecake! InShaAllah, there are many more coming and some more ideas buzzing in the head that will come into light as and when the time comes! 😀
For the time being, let's have a look at these blondies. Blondies are basically "white brownies", hehe… If you like the texture of brownies but not a chocolate person, then blondies are the way forward. This is the third blondie on the blog after these basic ones and the orange walnut one. I baked these first time to take them while I went to meet a friend. I had half a pack of white chocolate chips in the fridge and the almost empty bottle of cookie batter (I didn't use Biscoff, it was a different brand called Pinotti, which I liked more since it is mildly sweet!). A little browsing and I landed on this link, which told me I must bake these for her kids. I did, with some tweaks and that's why you are seeing it on the blog. All the good pieces went for her and we munched on the sides and the leftovers, they were really amazing! The combination of cookie batter and white chocolate just can't go wrong. I would never ask you to substitute with normal chocolate chips because I was already smitten when I tried hot chocolate with this combination and would never want to change it ever! If not chips, at least chop in a bar of white chocolate for the effect. 🙂 Off to the recipe…
Pin
Cookie Butter (Biscoff) White Chocolate Blondie
Ingredients
1

cup

all purpose flour

1/2

tsp

baking powder

1/8

tsp

baking soda

1/4

tsp

salt

80

gm butter

melted

2

eggs

whisked

1/2

cup

brown sugar

1

tsp

vanilla extract

1/2

cup

cookie butter spread

Biscoff or any brand - I used Pinnotti

1

cup

white chocolate chips
Instructions
Preheat oven to 180 degrees. Line a brownie pan with parchment, grease and set aside.

Whisk together the dry ingredients and set aside.

Add in the eggs, sugar, vanilla and cookie batter spread into the melted butter, and whisk till smooth.

Add in the dry ingredients into the wet ingredients and fold in till moist. Fold in the chocolate chips.

Pour into the prepared pan and bake for 25 minutes.

Allow to cool in the pan for 15 minutes before transferring on to the rack to cool completely.

Slice into 12 to 16 pieces and serve.
This is part of the Bake-a-thon 2017…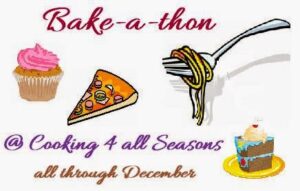 Pin
Loading InLinkz ...