Pin
Some recipes happen to us in very interesting ways. This one happened on a metro journey. Last year, for a few months, I used to take the metro to office after parking my vehicle at the first station close to my house. Later, when we got parking within our office building – such a relief, Alhamdulillah! – the metro trips stopped. There is a weekly newspaper that appears at the stations every Sunday and I would faithfully pick up one copy for my browsing. There would be nothing much to read as such, but it would have some pretty pictures, little titibits and at times, easy recipes too! This baked chicken is what I discovered in that magazine and got cooking as a part of a Friday lunch as side to some corn peas pulao.
The recipe comes together really easy. There is no marination required. The washed chicken pieces are layered on a greased pan and the spiced mixture is just spread over it, covered and baked till done. I would have really loved to make a gravy off the stock that was in the pan, but I was plain lazy! 😉 My next try with this marinade is on potatoes and mixed vegetables, I am sure it would taste amazing. And yes, this post goes to today's schedule for the Bake-a-thon 2017… you can check out the posts done till date here. Off to the recipe…
Pin
Herb Crusted Baked Chicken
Ingredients
8

chicken thighs

900 gm

3

cloves

garlic

1/2

tsp

dried rosemary

1/2

tsp

dried thyme

1

tsp

red chilli flakes

3

cloves

garlic

minced

Juice of two limes

Salt and pepper to taste

A drizzle of olive oil
Instructions
Preheat oven to 200 degrees.

Remove skin and clean the chicken pieces.

Drizzle oil on a roasting pan and arrange cleaned thighs. Sprinkle salt and pepper.

Whisk together ingredients from garlic to lime juice well. Brush on the chicken. Cover pan with foil.

Bake for 30 minutes.

Open the foil and bake for another 15 minutes.

Finally face under the grill for five minutes and take out. Serve warm!
This is part of the Bake-a-thon 2017…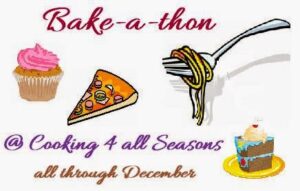 Pin
Loading InLinkz ...