Pin
When I had started blogging, I was in a shared kitchen with umma. She wouldn't allow me to bake as such, since she is diabetic and she would say that my baking would actually not allow her to be strict with herself. I would wait for her and D to go for their walks so that I could do the baking. When they would return back, the smell of the bakes would be wafting in the house and she would give me that look – I guess we all know what that look is, yes, the same thing we use with our children too now! 😀 Life is which goes around, comes around… 🙂
Once D retired and left the country for good, HD found a decent apartment close to where his business is, so we shifted. It's been four years now in this house, Alhamdulillah. As soon as I got my own kitchen, I went on a baking spree. It is understandable – I had got freedom and I wanted to utilize it. So I would bake every second or third day. My girls would eat little, HD and B would just have one or two pieces and the rest would get packed and brought to office. My colleagues would literally enjoy everything I brought for them. Not even a single time have I heard them say nothing negative. It may be that they didn't want to dent my feelings and wanted to keep the bakes coming, I don't know. 😀
Pin
Even though my baking did decrease with time, I would still bake once a week, and they would get a share of it. However, this year, just like I mentioned in the Jaffa Pudding post, my baking went into the back-burner. They would occasionally comment, "What happened? Don't you bake these days?" 😀 It does give a good feeling, no doubts about it. It was during the most recent remark that I decided to bake these scones. I have never baked scones for them before, and I was sure they would enjoy them.
These scones are vegan – so you can bake them when you don't have eggs! I totally loved how they turned out to be – crunchy on the out, yet soft and crumbly on the in. While we use cold butter for scones usually – like in these chocolate chip ones, this one has frozen coconut oil that you grate into your flour. It gives it such a lovely texture. Despite the use of coconut oil and coconut milk, the end result has a very mild coconut flavor that nobody would really mind. It was a truly satisfying bake…
If you see, the scones I baked is quite small – it had just six wedges. I have five colleagues I give to, so one piece was used for tasting purpose and the other five were packed along with one each of the hazelnut biscottis. I asked them to have it with a cup of lightly sweetened black tea. The mild sweetness of the scones and the dark cocoa flavor was actually pushed up by the coffee. Off to the recipe…
Pin
There is just another scone recipe on the blog which is one that I really loved and is eggless too, so this is scone recipe number 3… Got to make more of these goodies, InShaAllah… 🙂
Vegan Chocolate Scones
Ingredients
1/2

cup

wholewheat flour

1/4

cup

all purpose flour

1/4

cup

cocoa powder

1

tsp

baking powder

1/4

tsp

salt

1/4

cup

frozen coconut oil

1/2

cup

coconut milk

1

tsp

vanilla extract
Instructions
Preheat oven to 180 degrees. Line a round small pan with baking paper.

Whisk together the dry ingredients. Grate the coconut oil over it and rub with your fingers or with fork till the mixture resembles sand.

Pour in the coconut milk and vanilla and bring together the dough. It will be sticky.

Pat and shape into a round and transfer to the prepared pan. Cut into six wedges.

Bake for 15 minutes. Take out, cut through the line and separate the wedges. Bake for another 10 minutes.

Cool completely before enjoying! Or if you can't wait, you can even have it warm!
Linking this up to Valli's Bake-a-Thon 2018 event…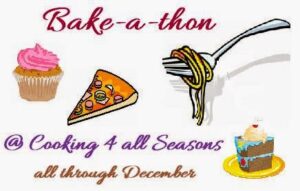 Pin
Loading InLinkz ...