Pin
Did this month go away so fast? I feel I haven't been much away from the blog as such. I stayed almost four weeks back home, but it just felt as though days flew by. We had a little flood threat this time through but Alhamdulillah, it was fine on our side, though there were areas like Nilambur and Wayanad that were badly affected by the heavy rains and mud slides. The unexpected mud slides caused very heartbreaking deaths in those areas. Apart from the heavy rains, the climate was otherwise pleasant. I slept quite well throughout the days, since it was nice and cozy. I had a few doctor visits to make, and to top it all, was the splint that got placed inside my mouth due to my TMJ problem. It feels very odd and I have to be on a soft diet for one month, the process which is already giving me irritable bouts. I will have to keep the splint at least for six months, till the situation gets corrected.
We had a very silent Eid in between. The thoughts were still marred by elappa's untimely death during Ramadan. Somehow, nobody has come out of the shock of his death. Watching D going through his life without elappa felt like a little pain in my heart. But then, that is life. Those the dead leave somehow survive with the hope that Allah will give way for them, and the dead is left to themselves along with their deeds. It also makes us wonder, what we have prepared to carry along with us as we embark on that lonely journey…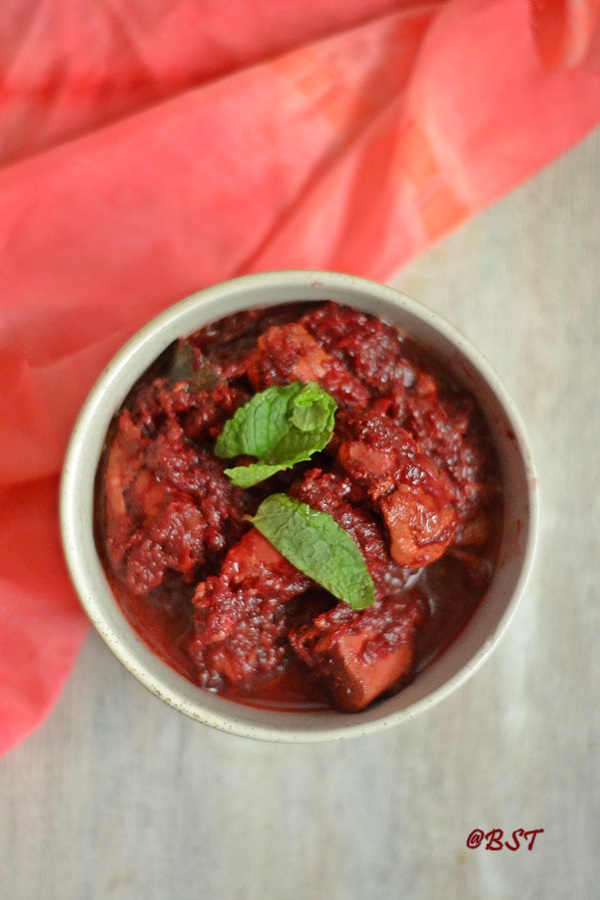 Pin
Now that I am back, I am hoping I will get back to blogging. I still have some drafts to finish, so I have some time to get into the cooking mood. I still have to equip my kitchen with some basic groceries and slowly get into the cooking mode. Usually, the hangover after vacations last for at least a week and this time too, it feels no different…
It helped that I had put this post up on the scheduled list, so that I just had to get to typing my post. 🙂 I have made Chukandar Ghosht before and we really loved it. When Shabina went wild with her beetroot chicken, it had been playing in my head that I must make this. I have mentioned before that my girls are very fond of beetroot. Azza gets a fancy on anything red, especially she loves beetroot pooris more for its color than anything else! So I was sure that this dish would be welcomed with open arms.
In this dish, the main work is grating the beetroots, which can be done with ease if you have a food processor. The dish comes through quite easily. The spices are the usual ones used. It is basically a chicken curry with an additional dimension of beetroot added. It is a good way to include vegetables into your diet if you usually struggle with doing it. 🙂 Off to this super simple recipe…
Pin
Beetroot Chicken
Ingredients
1

tbsp

coconut oil

2

medium onion

sliced thin

2

green chillies

minced

1

tsp

ginger garlic paste

1/2

tsp

turmeric powder

3/4

tsp

red chilli powder

1/4

tsp

cumin powder

1/4

tsp

fennel powder

1 to

mato

chopped

400

gm beetroot

peeled and grated

750

gm chicken

cut into medium pieces

1/2

tsp

garam masala

1

tsp

kasuri methi

crushed

Salt to taste
Instructions
Heat oil in a pressure cooker. Saute the onion and green chillies till wilted.

Add the ginger garlic paste and saute for a minute.

Add the masala powders, sprinkle in some water. Cook till the raw smell is gone.

Add the tomato and beetroot and saute till the raw smell of the beetroot is gone.

Add the chicken, toss up well. Add salt to taste.

Close the pressure cooker and cook for one whistle on high and on simmer for 10 minutes. Switch off and allow pressure to go by itself.

Sprinkle in the garam masala and kasuri methi and mix well. Adjust seasoning.

Serve hot with rice or chapathis.