Pin
Hazelnuts are pretty expensive nuts, just like pecans and pine nuts. That's why it is something I never buy. The only times I have bought some pecans were to bake these cookies and these ones too and I treated it like gold.  I buy pine nuts only when I know I have to be using it for some recipe, and that too, I buy so little that I invite a stupid look from the fellow at the counter. 😀
It so happened that I was walking towards the vegetable aisle when a box of hazelnuts stared at me. I looked at it, wishing I could buy it and then looked at the price. I re-looked at it again. And again. And again. I couldn't really believe my eyes. The next thing that happened was that the box landed up straight into the trolley. Once the box reached home, since I had no immediate plans to do anything with it, I placed it directly into the freezer. I then conveniently forgot about its existence till recently.
I pulled out the box and roasted all the hazelnuts. Majority of it went into making some homemade "Nutella", which I will share sometime later, InShaAllah. The rest were packed into a box, with me thinking of doing a cake or muffins or cookies. Finally I landed up making some biscottis, since I was craving to bake some since long.
Pin
I don't think I need to mention how delicious the combination of chocolate and hazelnuts are. When I used to eat a lot of chocolates, mine would always be the one with hazelnuts – this one being my favorite, which I could eat the whole in one sitting! This biscotti was just as good as the chocolate hazelnut bars! I made mine double chocolate, ie. with cocoa powder in the dough as well as bites of dark chocolate in between, intermingling with the bites of hazelnuts – bliss!
I adapted the recipe from here, but the way of making it was inspired by Martha Stewart. I had taken the Netflix one month free subscription, which I cancelled as soon as it closed onto one month because it was so addictive! Especially at night when I was supposed to be sleeping after a long day, I would just watch series after series and then waste almost an hour of my sleep time. 😕 Actually, my thought of baking biscottis was pushed when I watched an episode of Martha Bakes where she was baking with chocolate. While making the biscotti, she had made the dough in the food processor, and that meant I didn't have to do any extra chopping or cutting, and didn't have any other bowl to wash. 😉
The only problem with biscotti is the double baking – so you need to be patient till you can take in a bite. These were amazing with a cup of no-sugar strong black coffee. I can't stress enough on that. One glug of coffee, one bite of the biscotti and you are in foodie heaven. 😀 It was really amazing. If you do land up with some hazelnuts on special price like I did, then I urge you to make these – ASAP!
Pin
Chocolate Hazelnut Biscotti
Ingredients
3/4

cup

hazelnuts

roasted and deskinned (refer notes)

75

gm cooking dark chocolate

1/2

cup

brown sugar

1/4

cup

sugar

1 1/2

cup

all purpose flour

1/4

cup

cocoa powder

1

tsp

baking soda

1/4

tsp

salt

3

medium eggs

1

tsp

vanilla

2

tbsp

milk
Instructions
Preheat oven to 160 degrees. Line a tray with baking paper and keep ready.

Add ingredients from hazelnuts to salt in a food processor. Blitz for a couple of minutes, just till combined.

Add in the eggs, vanilla and milk, and blitz till the dough comes together.

Sprinkle some cocoa powder and put the dough in it. Bring it together till smooth and then shape into a log.

Transfer to the tray and bake for 30 minutes.

Take out, transfer carefully to a cooling rack and cool for 15 minutes.

Slice into biscotis and keep on the tray. Bake each side for 7 minutes.

Cool completely. Enjoy with a cup of coffee and keep rest in an air tight container.
Notes
To roast and de-skin hazelnuts, preheat oven to 150 degrees. Spread the hazelnuts on a sheet and bake for 30 minutes. Take out and empty the roasted hazelnuts into a kitchen towel. Roughly rub them for the skin to come off. Take off the deskinned hazelnuts. A few with skin is fine, though too much would cause bitterness.
Linking it to Valli's Bake-a-thon 2018 event, in which you are going to see 13 chocolate treats from my side…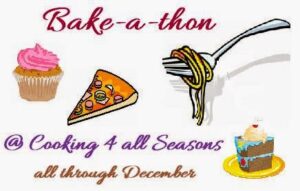 Pin
Loading InLinkz ...