Pin
Didn't I mention here that my parents were in town? Well, early morning yesterday, they went back home. It was a short sweet stay and it helped them overcome the jet-lag of being in the US with my sister for two months. It was actually tricky dealing with D during this time. Wherever we would go, especially at a relative's place, I used to drag him out reminding him that it was quite late and we are having a work day . I hope you get the point. 🙂 He would be in his full energy from 9 pm onwards with no inkling of sleep, and I would be literally wanting to fall on bed after a day at work. Thankfully, towards the end of the stay, his sleep clock got back to normal, so hopefully they both will sleep normally at home. 😀 The girls are a tad upset that they left, since their schools are close for winter holidays since yesterday and it is a long 3 weeks. They will be spending it more at home and at their babysit's place, which they aren't very keen. They love the family they stay with when I am at work, but as they are growing up, I feel they are wanting to be on their own, within the vicinity of their four walls. I am somehow not convinced to keep them alone. My girls still need a push when it comes to studies so maybe for another year, I will still follow the same system and gauge how they are progressing, before deciding if they are good enough to be at home by themselves. 🙂
I guess by now, you may have noticed a pattern in my posts appearing for this month's Bake-a-thon. Have you got an idea? If you have, then drop it in the comments… 😉 Let us move on to today's post which is a bake that was totally loved and devoured by the folks, Alhamdulillah…
Pin
After baking the Malu Paans, I wanted to bake something in lines of a savory cinnamon rolls. My first idea was an olive filling, but I was worried about how an olive overdose would taste like. It was then I thought I must make something in line of the pizza rolls, but of course with a meaty filling so that my folks would eat. I feel that when we put our mind on wanting to make something, then all ideas pop up around it.
I was thinking of a simple chicken filling, which went on to become a curried one. I spiced up the dough by adding some spice powders to it too. I wanted to add some cheese but then I thought, our cheese is paneer and not mozarella, so I ignored it! 😀 Actually it felt like a faux butter chicken rolled into the rolls. Or am I talking too highly about it? Hehe… sorry, I am not supposed to brag, right? 😉 As soon as it was baked, everything except one roll got over in no time, and the remaining one roll was enjoyed by B during dinner. The girls really loved it and said it was much easier to eat, since they had no messy fingers, yet felt like they had eaten chapathi and chicken curry. I guess that sums it all, why you all should try this… 😉 Off to the recipe…
Pin
Chicken Curry Rolls
Ingredients
FOR DOUGH:

1 1/2

cup

all purpose flour

1

cup

wholewheat flour

1/4

tsp

turmeric powder

1/4

tsp

red chilli powder

1/2

tsp

garam masala powder

1

tsp

instant yeast

1

tbsp

sugar

1

tsp

salt

35

gm butter

melted

1

cup

buttermilk

warm

FOR FILLING:

400

gm boneless chicken

2

medium onions

1

large tomato

2

green chillies

1

tsp

ginger garlic paste

1

tbsp

coconut oil

2

tbsp

tomato paste

1/4

tsp

turmeric powder

1/2

tsp

Kashmiri chilli powder

1

tsp

curry powder

1/4

tsp

cumin powder

Salt to taste

3

tbsp

chopped coriander leaves

FOR REST:

1

large egg

25

gm melted butter
Instructions
Let's prepare the dough first. Whisk together all the dry ingredients.

Melt the butter, whisk the buttermilk. Pour into the dry ingredients and start kneading. Add more flour or warm water if required.

Knead for 5-8 minutes till you have a soft and elastic dough. Grease the pan and allow it to proof till double, about an hour and a half.

Meanwhile, cut the chicken into strips. Wash and drain.

Grind the onions, tomato, green chillies and ginger garlic paste till smooth.

Heat oil in the pan. Add the paste along with the rest of the ingredients except the coriander leaves and saute for five minutes.

Add the chicken and cook till done. The mixture should be thick and saucy. Add in the coriander leaves, toss and switch off. Allow to cool.

Grease a large glass pan and set aside.

Once the dough is proofed, push it down and knead one more time. On a clean surface, sprinkle some floor and spread the dough into a rectangle.

Spread the filling in dough and roll. Cut into 8-10 pieces and arrange in the glass pan.

Keep covered while the oven gets preheated to 180 degrees.

Whisk the egg and brush generously on the top before pushing the pan into the oven.

Bake for 25 minutes. Switch on the grill and grill the top for two minutes.

In the meanwhile, melt the butter. As soon the hot rolls come out, spread the melted butter all over. Allow it to cool slightly and enjoy it with a salad.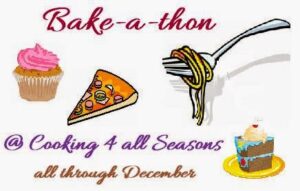 Pin
You are invited to the Inlinkz link party!