A classic American cake, that involves doing "nothing" and yet have something purely decadent!
Pin
I am sure you are intrigued by the name. I was too, when I first saw it on Sadia's space. The concept of blending everything at once, pouring and baking piqued my interest. I immediately pinned it up and decided to bake it as soon as I can. As is with me, my "soon as I can" doesn't have a cut-off time. While I was setting up my time table for the Bake-a-thon, I immediately jotted it down into the list. Since March, we hardly have guests and I have been trying to make smaller desserts but this one was made all for ourselves and we cleaned it up in the space of two days. Yes, four adults + 2 fairly eating children who aren't keen on pineapples, yet it was emptied. Hehe… So a fair portion of warning – make only when you will share! It is too irresistible!
As usual, I started checking to see if I could find why this cake is called so, and unfortunately I didn't get any satisfactory answers. All I could find is that this cake was named so in 1940s, before boxed mixes came into being, mainly due to its ease of making it – the measures are all in cups and literally needs just mixing all in a bowl after being dumped one ingredient on top of the other. When compared to the other cakes made during that time from scratch and with complicated techniques, this cake was so much simpler and hence the name struck. Hmm… quite interesting, right? Having said that, this cake is a little bit of waiting more than work and is similar to the poke cakes made these days with a struesel topping all full of yumminess…
Pin
Pin
The cake involves two parts – one baking the cake as is and then pouring over the sauce with the topping. I don't know if I need to involve the waiting part… Hehe… The cake uses canned pineapple as its main source of liquid and there is no oil or butter used into the cake. But then before you feel fine about it, the sauce has a lot of butter, so it compensates for the lack of it. 😀 I have used my food processor to do the batter but you can use your blender or just a bowl and whisk to do it, once the pineapples are crushed. I reduced the sugar to half from the recipes I found online, but it was still on the sweeter side after pouring the sauce over it. I think next time I would reduce a little from the sauce.
The topping is usually coconut and pecans, but I have used a mix of whatever I had in my pantry. When the cake is getting done, the sauce is made, so that it is still warm when it is being poured onto the cake. When you cut into the cake just an hour or so after making it, it would look like how you can see it in the pictures. The cake looks soggy and with a lot of liquid. But as it sits, it soaks up every inch of the sauce and becomes sturdier. If I would advise, make it the day before you wish to eat and keep it in your refrigerator. It tastes every bit divine the next day, that we almost regretted eating half of it the same day it was made. 😀
Pin
Just a tail end before going to the recipe, this cake gets called "Texas Tornado Cake", if you use a can of mixed fruit instead of pineapples and keep everything else the same. So if pineapple is not your thing, I have given you another option. 😉
Do Nothing Cake | Tornado Cake
Ingredients
2

cups

all purpose flour

1/2

cup

brown sugar

1/2

cup

granulated sugar

1/4

tsp

salt

2

tsp

baking soda

2

large eggs

room temperature

1

tsp

vanilla extract

565

gm pack canned pineapples

FOR TOPPING:

100

gm butter

3/4

cup

evaporated milk

3/4

cup

sugar

1

cup

mixed nuts

toasted and crushed (I used walnuts, peanuts and cashews)

1

cup

grated coconut

lightly toasted
Instructions
Preheat oven to 180 degrees. Keep a 13 x 9 inch pan ready. You can grease it.

In a food processor, empty the pineapple jar - fruit and syrup and crush it. Add the eggs and vanilla and mix again. Now add all the dry ingredients and run the processor till you have a smooth batter.

Pour into the prepared tin and bake for 40 minutes or till a skewer comes out clean.

While the cake bakes, make the topping by melting the butter and then adding the evaporated milk and sugar and cooking it till the sugar is completely melted. Fold in the nuts and the coconut and switch off.

As soon as the cake comes out of the oven, poke holes into the cake and spread the frosting all over the top, making sure to cover top portion well.

Allow it to come to room temperature. You may serve as is or keep in the fridge till the time to serve.
Notes
As the cake sits, it gets less sweet. You may increase the sugar in the cake if required.
Traditionally pecans was used for topping. I have used mixed nuts.
Make sure to toast the nuts and coconut lightly before adding to the frosting.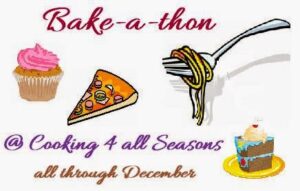 Pin
You are invited to the Inlinkz link party!