Just the apt cinnamon rolls for an abrupt craving – gets done in an hour and tastes oh-so-glorious!
Pin
There is something with the Bake-a-thon and cinnamon rolls. In the first Bake-a-thon I participated, I posted these Coffee Cinnamon Rolls and then a year later, this chocolate version. Last year, I had no cinnamon roll, but this year I do! Hehe… I already have a regular cinnamon roll recipe, with an option of making it eggless as well. My next target it to try making one with baking powder, so basically a no-yeast recipe… hehe…
I have such cinnamon roll fans in the house! I have personally never liked cinnamon rolls. While growing up, we never ate them and umma loathes cinnamon with her heart, so much that I don't even remember her keeping that spice at home. When she went to the US to be with my sister for the first time, her only complaint was, "They add that thing (she doesn't even want to say it!) into everything!" 😀 I have no clue why she doesn't like that spice, just like D isn't pally with cumin. Somehow I do feel that the way our parents eat reflects a lot into our habits as well. It is only after I had my own kitchen and started cooking more on my own, did I take a liking for cinnamon, cumin and even fennel – I couldn't stand it before! 😀
Pin
I guess being born in the early 80's and having a very normal lifestyle, cinnamon rolls or doughnuts were never in our list of treats. I actually miss that time. Life was really uncomplicated. Just the other day, I was discussing with a friend, as to how we would have friends who had such rich dads, but never made it evident at school until we actually graduated out of school. But now the show of wealth has hit such heights that our kids are overwhelmed by the difference of status. I always thank the Almighty that the girls go to a regular school, where their classmates are just like them, but still we get asked as to why we can't have this when they can have that. Usually, it is difficult to answer, but then I slowly explain that there is something called "Qadr" – destiny, which is pre-written and when it is time for us to have whatever it is, we will have it. I really don't know if they understand that… 😀
Pin
I seem to be in a mood for going all over the place! Coming back to the recipe, I have adapted it from here, however didn't follow it per se.  I actually have this problem of not reading completely before I start, and I thought I almost screwed this up. This recipe used a little higher amount of yeast when compared to the regular recipes, because we aren't resting it for enough time for the yeast to do its complete job. After kneading the dough, it is pushed into a hot oven for around 15 minutes, and then rolled, and immediately put back to baking till done, with very little resting time.
I was a little worried if it would work out, especially because the girls had got excited on seeing that I was working on cinnamon rolls. But once the rolls were out and the glaze drizzled, just like each time I bake cinnamon rolls, everything just disappeared! It was really soft and didn't even make you feel that it didn't go through the whole proofing. I can tell you this will be my cinnamon roll recipe from now on – apt for my lazy bones! Hehe…
Pin
Quick Cinnamon Rolls | Cinnamon Rolls in 1 hour!
Ingredients
FOR ROLLS:

2 3/4

cup

all purpose flour

2

tbsp

sugar

1/2

tsp

salt

2

tsp

instant yeast

1/4

cup

water

1/2

cup

milk

25

gm butter

1

large egg

FOR FILLING:

50

gm butter

softened

1

tsp

cinnamon powder

2

tbsp

brown sugar

FOR GLAZE:

3/4

cup

powdered sugar

1

tsp

vanilla

1

tbsp

cream cheese

2-4

tbsp

warm milk
Instructions
Preheat oven to 200 degrees. Keep a round pan or a square pan ready, after greasing and flouring.

Whisk together the flour, sugar, salt and yeast in a large bowl.

Warm the milk, water and butter in a microwave for 45 seconds. Whisk till butter is melted and mixture is lukewarm. Whisk in the egg.

Pour this wet mixture into the dry ingredients and start kneading till a smooth dough is formed - around 10 minutes. It may be slightly sticking but don't be tempted to add more flour.

Switch off the oven and snuck in the bowl into the warm oven for around 15 minutes.

Keep the butter ready. Whisk the sugar and cinnamon in a bowl and keep aside.

When the bowl is taken out, you will see the dough is risen. Flour the working surface and spread the dough into a rectangle, around 15 x 9 inch.

Spread the soft butter all over and sprinkle the cinnamon sugar. Roll tightly and cut into equal rolls - around 12. Arrange into the pan.

Preheat the oven again and while it gets done, let the rolls rest, around 10 minutes. Bake for 20 minutes.

Meanwhile, whisk the ingredients to make the glaze, add enough milk to keep it thick.

Once the rolls are out, cool slightly and pour the glaze over. Enjoy!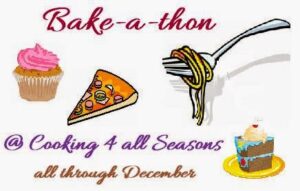 Pin
You are invited to the Inlinkz link party!