Pin
Cinnamon rolls took a long time to grow on me. I never liked them, I really have no reason why. Almost all malls have a Cinnabon outlet here and I would walk past them covering my nose. I never liked the smell that came out of the outlet. It smells too artificial – no offense to the Cinnabon lovers out there, it's just with me! Each time the girls would want to try, but I just would drag them away because I simply didn't want to buy it for them. The love for cinnamon as a spice and flavor grew on me only very recently and I have to thank blogging for the same! I now love the smell of cinnamon in bakes, and at times in my tea too, but still I couldn't get off the thought of the smell of the rolls. Hehe…
I finally baked a batch during Eid ul Fitr in June when my cousins asked for it. I didn't want to say a no since I have baked rolls before and I enjoy yeasted bakes. I got hold of a link and baked a big batch. It was a super hit. I only had a small bite and I really loved it. What surprised me is that HD, who has no sweet tooth, went ga-ga over those rolls. "Why didn't you ever bake them before?", he quipped. The chocolate loving Rasha and the fidgety Azza enjoyed their rolls and said, "Ummi, they are yum!" It was good enough reason to make them again, but this time I wanted to make a batch that was perfect for our little family. The recipe I referred to was amazing but tough to scale down to half.
Pin
On a bored Thursday night, I flicked through my little "Coffee" handbook and it had this recipe that was perfect for us. One 8 inch pan filled with 9 rolls – apt for three adults and two kids! I immediately got into action, woke up early on a Friday morning – so unusual of me! 😀 – and got to making the recipe. I can't express the aroma of the rolls baking in the oven in a silent and cozy home! By the time the whole house woke up, the rolls were ready to be eaten warm. I stuck to the recipe to the T since I get very uneasy with yeast. Really straightforward and amazing rolls this recipe gave me! The rolls got a huge smile from HD and he polished off three rolls without any hesitation.
The filling is a little different as there is an addition of coffee powder along with the cinnamon, sugar and butter, but you can very well omit it to make normal cinnamon filling. I kept the icing simple as well, but you can very well use cream cheese along with the icing sugar and couple of tablespoons of milk to make a pourable icing. I did make the cream cheese icing in my first attempt, then realized that my cousin didn't like the tangy cream cheese icing. Thankfully I had kept it separately so she enjoyed her rolls without any icing on it, hehe… Meanwhile, the very next day I baked these rolls, the girls and I did go to the Cinnabon outlet – I fought the urge of the smell! – and bought the mini rolls to taste. When they were eating it, I asked them, "Which tastes better?" And definitely with unabated breath, since I have a bunch who are tough to please. While chewing on their rolls, they said, "Yours, ummi! But better it would've been more warm like these." Yeah, because they woke up late and had cold rolls with their cold milk! 😀
Pin
If you want me to be honest, this is the only dish I baked fresh for the Bake-a-thon, since I had no yeasted bakes in my drafts, and after all, yeast is an integral part of baking! 😀
Coffee Cinnamon Rolls
Ingredients
450

gm all purpose flour

1/4

tsp

salt

1 1/2

tsp

instant yeast

2

tbsp

sugar

50

gm butter

melted

1

large egg

beaten

200

ml

lukewarm milk

FOR FILLING:

50

gm butter

softened

4

tbsp

brown sugar

1 1/2

tsp

instant coffee powder

1

tsp

cinnamon powder

FOR ICING:

1/2

cup

icing sugar

2-3

tbsp

milk
Instructions
Sift together the flour and salt into the mixer bowl.

Stir in yeast and sugar. Make a well in the center.

In a jug, whisk together butter, egg and milk and pour into the centre.

Bring together to form a ball and start kneading into a soft dough, adding flour little by little in case needed (I used a stand mixer and didn't add any extra flour.)

Lightly oil the bowl and put the dough into it. Cover with cling film and allow the dough to double in size, around one hour.

As the dough is nearing full rising, whisk together the ingredients for the filling till a smooth paste and set aside.

Grease an 8 inch square pan well.

Take the proofed dough and slight knead for a couple of minutes. Roll out on a floored surface into a 30 cm square.

Spread the filling all over evenly. Tightly roll from one side to the other.

Cut into equal 9 peices using a sharp knife and arrange into the greased tray.

Cover and allow the rolls to proof again for 40-50 minutes.

Meanwhile preheat the oven to 200 degrees.

Bake in the oven for 20 minutes till the top is golden brown.

Allow to cool in the pan for 10 minutes and then slowly transfer onto a wire rack for cooling.

Whisk the icing sugar with little milk till a thick paste and spread on the rolls. Serve warm!
This is part of the Bake-a-thon 2017…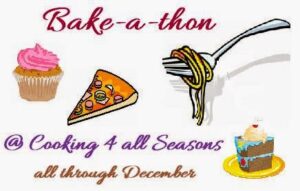 Pin
Loading InLinkz ...