Pin
With due permission from Valli, I decided to move yesterday's Bakeathon post to today, since I didn't want it to clash with the MFB post. I somehow don't like the idea of having more than one post a day, though I have done that a few times in the past, but not with a full heart. This time, I made sure I asked Valli and as soon as I got the OK, I just went ahead with scheduling the post on the next day. 🙂
The recipe today is an amalgamation of a lot of factors – leftover bread getting stale, wanting to finish a bottle of Nutella nearing expiry date and then not liking the bottle of chocolate flavored Horlicks that I had bought. Horlicks is actually my cheat meal. Especially with nights getting quite chilled now, I always wish for a warm drink before going off to the sleep. Most of the time, it ends up being a small mug of hot water, with a tablespoon of Horlicks stirred in – yes, without the milk and sugar, just to lower the calorie. 😉 But then, the first trial of the chocolate one and it didn't run well with me. Though, let me tell you a secret – it tastes much better to be eaten off the spoon rather than as a drink! 😀 I hope my mentor isn't reading my posts – she will get it why I have not been losing weight now… hehe…
Pin
Bread pudding is something I make constantly when I have guests or when I need to give away. It is easy to make and easier to please too! I was actually worried while I tried this recipe – would it be overtly sweet? That was my main concern. Nutella is a sugar bomb, everybody would agree, and even Horlicks has sugar in it. As I baked it, I was praying in my mind that the level of sweetness was fine for my family. I had a cousin over for lunch when I baked this. B and he finished off half the tray. The girls had their little share and the remaining was sent off to HD's staff. I hadn't send them anything since long and this was a relief for them.
I had a spoonful and found it slightly over-sweet, but for those who love the maltedness of Horlicks and spoonfuls of Nutella, then this is an ultimate bread pudding. Especially with the climate getting chill by the day, I feel that warm puddings like these are apt to keep those sweet cravings after lunch or dinner satisfied. If you love them classic like me, then this bread butter pudding should do the trick! Off to the recipe…
Pin
Malted Nutella Bread Pudding
Ingredients
50

gm butter

10

slices

bread

5

heaped tbsp Nutella

400

ml

milk

100

ml

condensed milk

120

gm cream

1

tsp

vanilla extract

2

heaped tbsp chocolate Horlicks

2

eggs

room temperature
Instructions
Melt the butter and set aside.

Sandwich two slices of bread with one tbsp of Nutella. Chop them into squares.

Toss the bread with the butter and spread in a baking pan.

Whisk together the milk, condensed milk, cream, vanilla and Horlicks and bring the mixture to heat - do not boil. Take off the heat.

Break the eggs into a bowl. Whisk them well. Pour a little of the hot mixture and whisk till done.

Add back into the mixture and whisk well. Keep back to the heat.

Cook till the mixture thickens. Pour over the bread and let it soak for 10 minutes.

Meanwhile preheat the oven to 180 degrees. Bake for 25 minutes.

Serve warm.
Notes
You can make this dessert eggless by replacing the eggs with 3 tbsp custard powder or corn flour, directly whisked into the milk mixture and cooked till thick. Pour over the Nutella stuffed bread and bake as usual after the soaking time.
It is not necessary to use chocolate flavored Horlicks! Use any malted drink powder of your choice - Boost, Bournvita, or even normal Horlicks will work.
Linking this up to Valli's Bake-a-Thon 2018 event…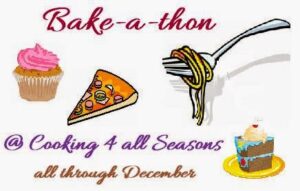 Pin
Loading InLinkz ...