Pin
If anybody enters my kitchen, they will think they have entered an office. I have a white board on the side of my fridge with full of scribbling, a cork board on one of my cupboard doors with lots of cut outs pinned to it and a sticker hanger with even more papers clipped onto it. Anyone new who comes gives a very curious look at them to see what I have spread on them. Obviously, they are recipe printouts and cut outs that I pin up so that I try immediately. That "immediately" has no specific time frame – it can be a week, a month or even years.  But I must say that this recipe I am posting today didn't have to wait indefinitely to be tried, thanks to the Bake-a-thon. 😀
I mentioned about receiving a small pack of goji berries from Zerin, while I posted these delicious white chocolate blondies. I also sprinkled them into this granola and folded them into these chewy bars.  However, my attempts were not enough to finish off the stock. It is when these cookies took form, making sure that I utilized all that remained in my fridge. 😀 I printed out this particular recipe and pinned it up on my kitchen cupboard before I went on my vacation. I kept walking up and down, resolving to bake them as soon as I can. It took a sick leave last month to actually put my intention into practice. Thankfully, that resulted in some lovely clicks in the mild winter day, I suppose. 🙂
Pin
Since these were mentioned as breakfast cookies, I made some slight variations to the recipe with the ingredients in my pantry. These cookies are much healthier, in the sense – whole wheat is used as the base flour. Some chia seeds, rolled oats, walnuts and goji berries are added for the extra bite and nutrition. I have used brown sugar, but if you want to make a tad bit more guilt free, then you can use powdered jaggery or coconut sugar instead. Also, the recipe uses coconut oil instead of butter.
Having said that, this wasn't a cookie that my girls enjoyed. 😕 It was eaten up by HD, B and me. I also sent a few to a friend when I had gone to see her, and she mentioned that her kids loved it so much that they gobbled up whatever was packed as soon as she landed home. My mind then told me I should have packed a couple more, because I wasn't sure if her kids would love them after seeing the reaction of my girls. 🙁 I always feel that your own children tend to love somebody else's food and viceversa. My girls always say that their babysit aunt makes the best lunch and they kind of loathe my cooking, while their friends rave about anything I send with the girls in their lunch box. The irony of life, I suppose…
Pin
I know I could have easily just ignored the below click but it is my first steam picture I have taken without too much effort from my side. I totally love how it turned out to be. What do you all think? 🙂
Pin
Goji Berry Breakfast Cookies
Ingredients
1/2

cup

coconut oil

1/3

cup

brown sugar

1

large egg

1

cup

wholewheat flour

1

tsp

baking powder

1/3

cup

chopped walnuts

1/3

cup

goji berries

1

tbsp

chia seeds

1/4

cup

rolled oats

A pinch of salt
Instructions
Preheat oven to 180 degrees. Line a pan with parchment paper.

Whisk the oil, sugar and egg till well combined.

Add the rest of the ingredients and fold in well till distributed.

Using a small ice cream scoop, scoop out some dough, shape and keep on the pan. Keep a spacing of 1 inch between the cookies. Makes 14-15 cookies.

Bake for 10 minutes or upto 15 minutes to make it crispy. Cool for 5 minutes in pan and then cool completely on wire rack.Enjoy!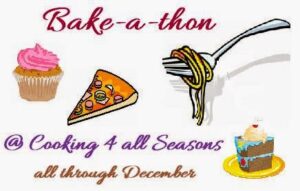 Pin
You are invited to the Inlinkz link party!