Pin
The last post of the year, and it just happens to be the last post of this year's Bake-a-thon too! Every last post is meant to be a look back into the year. I really don't know if I liked 2018. Even though the year started pretty decently, past midway, it came with a lot of stress related to how things are moving. I better not dwell around it – these are things that will happen. We find ways to deal with them and move on. The highlights of this year was surely my weight loss and then B's wedding. We had a very good time and met up a lot of people I hadn't seen in a long time, Alhamdulillah. It was a day that went really well and we went off to sleep with such a settled mind… 🙂
And of course the weight loss… I remember ending 2017 lamenting about how I had started and it was reaching nowhere. So this year in January end, I took the plunge and went with a mentor. I have to admit that it was the best decision I took with regards to my health. We may think questions like "why didn't we do this earlier?" but I surely believe in His Timing and everything happens only at that time. 🙂 I haven't been 100 percent consistent but yes, results did show and as I head into the next year, InShaAllah, I am lighter by close to 21 kgs. The best part is I lost 20 kgs in the first half of the year but the second part has been more of a slow and steady inch loss. Most of them noticed how much I lost only during the past couple of months. I have been getting a lot of compliments Alhamdulillah, but knowing that this has come with some hard work of giving up on so many matters that we as foodies associate with, I am not ready to lose it all. I am planning to go on till I hit my target and then work towards maintaining it.
Having said that, the last couple of months has been really stressful and keeping my food as clean as possible without binge eating has been a real struggle. Having associated food with emotions all these years, trying to clean up that messy part of mine has been the biggest challenge this year. I can't say I have done it, but I can say, that I am slowly unraveling it and am confident that I am a much better person now in relationship with food. And of course, it is work in progress, and I am determined to get better… 🙂
Pin
Coming to the last chocolate based recipe for this year's Bake-a-thon – I was actually in two minds whether to post this or not. There is a reason for it – the muffin that I baked was amazing, but the frosting was a dud. You can see it. 😕 I over-beat the whipping cream and it split. I felt like crying. I also didn't have icing sugar, so I powdered my sugar and used. So the frosting became grainy. With a major mistake of a frosting, I was wondering whether to post this. But the folks who ate it with the frosting, said that it just complimented each other so well. Nothing remained! And yes, from the couple of spoons that I had, I did feel that the frosting tasted amazing along with that moist muffin. So I still keep the recipe… Moreover, I was done with baking with chocolate! 😀 I didn't want to bake anymore… Hehe…
So what makes this cupcake special? It uses pumpkin puree. Pumpkins are so much in season now and in various sizes. I have been wanting to bake with pumpkin even since my sister shared a picture of a cake she baked with pumpkin and raving about how moist it was. Pumpkin is a vegetable which has a mild taste and is soft, so I was sure it would act similar to banana. When I saw a little pumpkin staring at me, I picked it up, baked it and used up to make these cupcakes, to take along to HD's cousin's house, where we went to stay during the National Day holidays earlier this month. After I baked them, we decided to go over the next day, so I had kept the muffins on the countertop. While I made the frosting, a couple of the muffins disappeared. But as my frosting went into flop mode, my heart sank along with it. But I didn't want to waste it. I still plopped it on the remaining muffins. It did look like a cloud on top, like Fami commented when she saw the pictures on my Insta stories. 😀
I packed off six in a box and pushed it into the fridge, and the remaining four were given each to the girls, HD and B. HD gave me an odd look when he saw the messy looking frosting, but still ate it. He did comment that the frosting was a tad bit sweet. I was really not even sure if I wanted to carry these to his cousin's place when we went next day. But still there was nothing left. They really loved how it tasted and said it was just too delicious. My heart did feel OK for the mess I made. I am still jotting down the frosting recipe, because I know had I been a little patient, this would have turned out really well.
I sincerely hope you all enjoyed my posts during this year's Bakeathon. I was not able to stick to what all I actually wanted to try and post, but I am just glad I pulled up 13 chocolaty treats for all of you. 🙂 I sincerely thank all of you for sticking around with me this year, and hoping I will be able to keep up the blogging mojo in 2019…
Pin
Chocolate Pumpkin Cupcakes with Peanut Butter Frosting
Ingredients
1

cup

pumpkin puree

refer notes

1

large egg

room temperature

1/4

cup

oil

1/4

cup

yogurt

1

tsp

vanilla extract

1 1/4

cup

all purpose flour

1/4

cup

cocoa powder

1

tsp

baking powder

1

tsp

baking soda

1/4

tsp

salt

1/3

cup

brown sugar

1/2

cup

granulated sugar

1/2

cup

chocolate chips

FOR FROSTING:

120

gm butter

softened

2

cups

icing sugar

1

tsp

vanilla extract

250

ml

whipping cream

1/4

cup

crunchy peanut butter
Instructions
Preheat oven to 180 degrees. Line a 12 muffin pan.

Whisk together all the wet ingredients, from pumpkin puree to yogurt till smooth.

In a large bowl, whisk together all the remaining ingredients including the chocolate chips. Add the wet ingredients and fold in till moist.

Divide equally into the muffin cups. Bake for 30 minutes or till a skewer comes out clean.

Cool completely on a wire rack.

For the frosting, whip the butter till smooth. Add the icing sugar, 1/2 cup at a time till combined. Reserve 1/2 cup for the whipping cream.

In another bowl, whip the cream till smooth. Add the reserved icing sugar and whip till done. Add in the vanilla and whip till stiff.

Fold in the whipped cream into the buttercream lightly till combined. Fold in the peanut butter. Refrigerate till use.

Once the muffins are completely cooled, top with the cold frosting. Serve.
Linking this up to Valli's Bake-a-Thon 2018 event…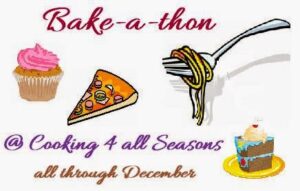 Pin
Loading InLinkz ...