Pin
Today's post for the Bake-a-thon 2018 comes up with a story, but it is a sad one. By the way, can you believe that we are on the second last post for the Bake-a-thon? This time has been super fast. I have totally enjoyed baking, clicking, typing and scheduling the posts for this series with the chocolate theme. I hope all of you loved all the posts that I have done for this series! It has left me drained, literally speaking, but drained in a good way, Alhamdulillah… 🙂
So coming to the story for this cake… I usually bake and take something when I go visit my friends or relatives after a long time. It is like breaking the ice too, right? I always prefer home made goodies instead of buying a box of chocolates. It makes it feel a lot more personalized. I have mentioned before that I love baking with cookie butter, or Biscoff – the most famous brand. My favorite bake using Biscoff has been this cake – I have to bake it again very soon, just waiting for a chance! I wanted to blend this amazing ingredient into a chocolate cake so landed up baking this cake to take to a school friend, who had delivered her third child. Yes, I still try to keep in touch with my childhood friends who are around, even though with busy lives we all lead, it gets a bit tough these days…
So this delicious cake was baked with double the Biscoff – into the batter as well as swirled on the top, cooled and sliced. We enjoyed the edges, that is how we taste the bakes before we take them out. 😉 I had packed them and as we were getting ready to move out, I asked Rasha to hold them upright and walk with them. What followed after that was mayhem. I heard some humming, and then an "aaah" – a shriek, yes… Azza screamed, "Ummi, thaatha dropped that cake box and it is all over the floor". My heart sank, totally… There were two labors on our level, who were handling some furniture of those shifting into our building. They quickly helped Rasha put back the pieces which was on top of those that touched the floor.
Pin
I couldn't hold my irritation and anger, that she did get a shouting and a pinch – which I, of course, regretted later – and since I didn't have the heart to carry it, I asked the men to take it. Maybe it was meant for them and not my friend. On the way to her house, Rasha got a big lecture as to how she needs to be a bit careful with herself. She actually has wobbly hands – she needs to touch everything that she sees on the way, sometimes ending up damaging them, she drops a lot of things, etc. I don't know if it is a good thing or a bad thing. 😀 It's OK when she does it at home, even though it irks me, but she does it when she is out as well, so I get worried if she will add a few dirhams into my final bill. She hasn't done that Alhamdulillah till date, but still we always worry. At times I feel I am unnecessarily pressurizing a soon-to-be-12 pre-teen to follow a set guideline, which I shouldn't be doing. But still I keep going on and on with her, much to my irritation and hers too.
The whole time I was in her house, my heart was sulking that I couldn't carry the cake. Her parents were also with her, so it would have been a good treat for them as well as her kids. But then "Man proposes, God disposes". I got a box of chocolates from the supermarket downstairs and carried it for them. Later, once back home, I messaged her the whole story. I will not forget her response: "That was really sweet of you. Don't worry about the cake now, may I am destined for something better from your hands." 😀 After that, she ate the Fudge Brownies when we had all gathered up. Hehe…
So there ends the story, I guess we will go to the recipe of this awesome cake for now… 🙂
Pin
Eggless Chocolate Cookie Butter Cake
Ingredients
1 1/4

cup

all purpose flour

1/3

cup

cocoa powder

1/2

cup

brown sugar

1/4

cup

sugar

1

tsp

baking powder

1/2

tsp

baking soda

1/4

tsp

salt

1

cup

buttermilk

1/3

cup

oil

1

tsp

vanilla

1/3

cup

cookie butter

2

tbsp

cookie butter

melted for topping
Instructions
Preheat oven to 180 degrees. Grease and line a small loaf pan.

Whisk together all the dry ingredients in a large bowl.

In a jug, whisk the wet ingredients and the cookie butter and whisk till smooth. Pour over the dry ingredients and fold with a spatula till smooth.

Pour into the pan and top with the melted cookie butter, creating swirls.

Bake for 40 minutes or till skewer inserted comes out clean. Cool in pan for 5 minutes before flipping onto a cooling rack. Cool completely before slicing and serving.
Linking this up to Valli's Bake-a-Thon 2018 event…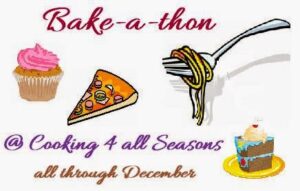 Pin
Loading InLinkz ...