Salted, with a little hinge of sweet, full on cumin biscuits – a regular in Indian and Pakistani bakeries… 
Pin
Indian bakeries have their own reportoire of cookies, that we love to call "biscuits", like the Nankhatais and the Kaju Biscuits. Somehow, even though in my original plan was to bake a couple of cookies, as they perfectly fit into my sub-theme of "Main Ingredients 5 or less" for this month's Bakethon, I ended up baking none till this week. While figuring out whether I was done making the recipes for this month, I realized I was one short and quickly ended up baking these cookies, that has been on my to-do list since long.
Back home, every bakery has these big glass jars, we call "bharanis" full of these thick, crispy biscuits that you can't eat without dropping a few crumbs around. Hehe… One of them has loads of cumin in it. My family doesn't like cumin flavor, especially my parents but I love it. I was sure somehow that baking these biscuits may not be something that may get over as I wish for. Still I went ahead with it. Usually, vanaspati is used in bakeries to make cookies as these, but butter is always the better version and hence I have used it. There is hardly any sugar used, since it's task is to balance out the saltiness. Now the level of salt it upto you. I added a teaspoon of salt and almost everybody who tried it commented that I could have lessened the salt. However, I felt it was fine. So go with lesser salt if that is what works. The recipe is really easy and straightforward, and something you can make when you are craving for something that is more salty than sweet.
Pin
Jeera Biscuits | Salty Cumin Cookies
Ingredients
120

gm

butter

softened

2

tbsp

sugar

1 1/2

cup

all purpose flour

1/2

tsp

baking powder

1

tsp

salt

check notes

1-2

tbsp

cumin seeds

1-2

tbsp

milk

optional
Instructions
Preheat oven to 180 degrees. Line a baking tray with baking paper.

Beat butter and sugar till just fluffy using a whisk.

Sift in the flour, baking powder and salt into butter mixture. Sprinkle in the cumin seeds.

Using your hands, bring the dough together. If it doesn't hold shape, add 1 tbsp milk at a time and bring together.

Spread out some cling film, transfer the dough into it. Shape into a log and refrigerate for 15 minutes for the dough to set.

Remove the cling film, cut into 1/2 inch thick cookies and line on the tray. I got 15 cookies.

Bake for 18-20 minutes for softer cookies or upto 25 minutes, until done.

Cool on a rack. Enjoy with your cup of chai.
Notes
Even though I felt the salt was fine, the folks who tried it felt it a little over. So use around 1/2 to 3/4 tsp salt. Note that each brand of salt differs in the level of saltiness. 
Do not miss sifting the flour with the salt, this will ensure that the salt is evenly distributed. 
My cookies were fairly large and hence took 25 minutes to bake to crisp. If your cookies are smaller, start watching them around 15 minutes, to ensure they do not overbake.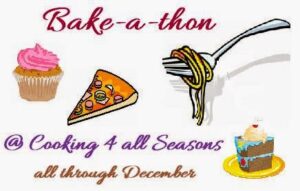 Pin