Pin
The climate we have here in the UAE now is just apt for fried goods – anything that is deep fried and can be had hot with a cup of hot chai! The craving keeps hitting every now and then, but most of the time you have to tame your inner beast, taking out the "bad" word CALORIES on it and not giving into it! Hehe… one of those "bad" foods is indeed samosas – deep fried, and sometimes you will get a pot of oil coming out of it when pressed with a tissue. 😉
If you crave samosas but don't want to deep fry, then here is a baked version! The inspiration came from a contributor called Nizwa, who had shared this on a group. She had basically prepared the cups separately and filled it up with a creamy prawns filling. That is how forgiving this recipe is! I have done a chicken filling, while you can go ahead and fill it up with anything you want. If you skip the cheese, you don't even need to go for the second baking. This was a hit with the girls, since they loved how crunchy it was and a hit with me, since it was just apt fodder for my lazy bones, who never gets folding a samosa right! 😀 Off to this simple recipe…
Pin
Samosa Cups
Ingredients
24

samosa sheets

3

large eggs

1/2

cup

milk

Salt and pepper to taste

Shredded cooked chicken as needed

Mozarella cheese as needed
Instructions
Preheat oven to 180 degrees. Grease a 12 cup muffin pan.

Cut each samosa sheets by half.

Beat the eggs, milk, salt and pepper till well mixed.

Dip each half sheet in the mix and layer on the cup. I used four halves, ie. 2 whole samosa sheets put in four directions to make it look like a cup. Complete for all the cups.

Bake for five minutes.

Pull out the cups, sprinkle the cooked chicken into each cup. Top with mozarella cheese.

Bake for another 10 minutes or till the sheets look golden brown and the cheese is melted.

Serve warm with ketchup.
Notes
I used plain chicken cooked in turmeric, salt and pepper, shredded it and used it. You can use leftover rotisseries chicken on any filling of your choice.
This is part of the Bake-a-thon 2017…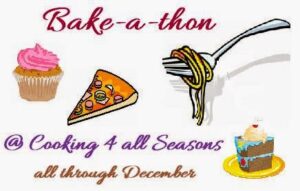 Pin
Loading InLinkz ...