Pin
While doing a post for the Bake-a-thon 2017, I shouldn't be leaving a banana bake! Bananas are my favorite fruit to bake with. There are so many different types of banana breads and cakes already on the blog and I feel it is never enough. I just want to keep exploring more and more. 😀 Nowadays, I tend to buy just enough bananas to eat so that I am not tempted to bake! Hehe…
Once I happened to chance upon this recipe and since it had coconut in it, I had to try it. This is not the first time I have baked with the banana coconut combination – this crumb cake with the same combination was a killer that I am considering baking this one really soon, hopefully with wholemeal! So I was sure this one would be an amazing back too… I guess you can see it from the pictures…
Pin
All you need is one bowl, a jug and a whisk or spatula. The loaf comes together pretty soon. I have used fresh grated coconut, so that definitely ups the oomph factor, but you could always use dessicated coconut. The buttermilk keeps the bake really moist. I have used a mix of wholewheat flour and all purpose flour for this bake, and due my experience of baking mixed breads, I upped the liquids to keep the loaf moist. I must admit I was a little nervous while doing that, but what baked and came out was a beautiful looking loaf. I hope you can see those spots of coconut shining out in the loaf!
It was a delight in every bite and the fact that it is eggless, you will not even miss the eggs in it. If you love coconuts and have a few ripe bananas to finish off, then you must try this bake for sure! You will sneak in a few for yourself to enjoy for the few days… 😉 What more, this loaf can be easily made vegan too. All you need to do is replace the buttermilk with almond milk or soy milk, curdled with 1/4 tsp of vinegar for 10 minutes, and you are ready to go!
Pin
Eggless Banana Coconut Bread
Ingredients
1 1/2

cup

wholewheat flour

1

cup

all purpose flour

2

tsp

baking powder

1/2

tsp

baking soda

3/4

cup

brown sugar

1/4

tsp

salt

1

cup

grated coconut

3

medium ripe bananas

mashed (a little more than a cup)

3/4

cup

coconut oil

3/4

cup

buttermilk
Instructions
Preheat oven to 180 degrees and grease a large loaf pan well.

Whisk ingredients from flours to coconut in bowl well till combined.

In a jug, whisk the mashed bananas, coconut oil and buttermilk well and pour over the dry ingredients. Fold in till combined.

Pour into the prepared pan and bake for 60 to 70 minutes, till the skewer comes out clean.

Cool in the pan for 10 minutes, before flipping onto a wire rack to cool completely.
This is part of the Bake-a-thon 2017…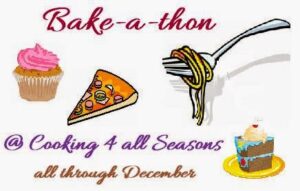 Pin
Loading InLinkz ...