Pin
As the second recipe for this week's theme of "Breakfast" in the Blogging Marathon #110, I have chosen to make a  recipe, that is considered to be very simple but can drive you up the wall! Please let me know if you agree or disagree. 😀
Upma is considered to be one of the easiest breakfast dish that can be prepared in no time. Being a basic recipe, I have always struggled to make it the way I like it. In fact, I have a "love-hate" relationship with this dish. I never liked upma when umma would make it for breakfast. Hers is usually a little dry and used to get stuck in the throat. Each time I would see her large kadai with a lid on the stove top when I would walk the kitchen, the frown would start from the heart to the face. Hehe… It was only after I got married, I started liking upma. HD would make the best upma – please note it is past tense. He no longer does… It's not only with upma, but with many other dishes… 😕 Most of the time, our weekend breakfast used to be upma. It is very easy to make, gets eaten fast too, so that we could go one with our cleaning tasks meant for that day. Once the kids came by, the upma mornings stopped, along with so many others that also stopped… 🙂
Pin
HD is a very impulsive cook, so he would throw in anything that he found in the pantry. But with upma, he would be very specific. He would always make in ghee. He would add loads of chopped ginger and fry it well. I used to hate biting into so much ginger at that time. After roasting the rava, he would just add in so much water that you would feel he is making a mess of it. But at the end of the cooking, the rava would drink up all the water and the upma would be really soft and fluffy that I wouldn't want to stop eating it. He is the one who got me into liking upma as a meal. But once he stopped making it, I struggled for a long time to get my consistency right till Fami posted her umma's recipe on her blog.
I tried it and it was a Eureka moment. HD also commented that it was very close to how he made it. Hehe… I am just so thankful to her for getting me into the nostalgic lane. 😉 I still don't make upma often, but there are times when I really crave for it, and make it just for myself. Hehe… I would like to put a disclaimer to this recipe, that it isn't the only way to make it. I had done this recipe on my Instagram handle a couple of weeks ago and I was bombarded with a lot of suggestions, that included adding coconut for additional flavor and cooking the rava in buttermilk, among many received, and also on how it needs to be eaten – with coconut chutney, etc. I have already noted it down and may post sometime in the future, but as of now, we are loving this version and will continue to… Hehe… Off to this recipe…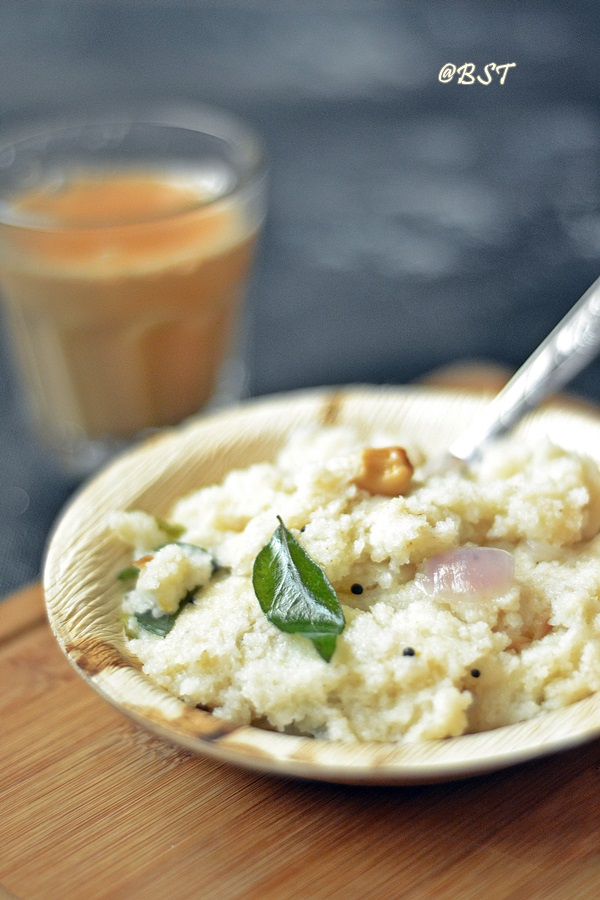 Pin
Upma | Easy Rava Upma
Ingredients
1

small onion or 5-6 shallots

sliced

1

inch

piece ginger

chopped into small pcs

2

green chillies

minced

1

sprig curry leaves

minced or whole as preferred

1

heaped tbsp ghee

1

tsp

mustard seeds

1

tbsp

urad dal

2

dried red chillies

5-6

cashewnuts

chopped

Salt to taste

1

cup

semolina

3

cups

boiling water

refer notes

Coriander leaves for garnish

optional
Instructions
Keep the onion sliced and ready. Similarly, keep the chopped ginger, chilli and curry leaves ready.

Heat a saucepan and heat the ghee. Splutter the mustard seeds. Fry the urad dal and dried chillies briefly. Fry the cashewnuts.

Add the ginger, green chillies and curry leaves and sizzle for a minute.

Add the onion and fry till just wilted. Constantly saute to avoid the ingredients from burning.

Add the semolina and saute for at least five minutes or till it is well roasted.

Keep the water to boil at this time. Add sufficient salt into the water - a little more since it will ease out once added to the rava.

Once the rava feels roasted, add the water in batches and mix to avoid any lumps. The water may feel a little more but eventually it will get soaked by the semolina.

Allow the mixture to boil and then keep on simmer and closed lid for 8-10 minutes. Once in between, open and give it a good mix.

Switch off and give it a good mix. Serve hot, the way you like it!
Notes
You may use coconut oil or a mix of ghee and oil for the tempering.
The ingredients that go into the tempering is totally your choice, add or deduct as required.
We like the soft upma, but if you prefer drier, then use 2 to 2.5 cups of water for each cup of semolina. Tinker with the water quantity till you have your consistency. 🙂
You can dry roast the semolina and boil the water in the tadka instead. However, I prefer this way, since I feel the rava gets a lot of flavor from the ingredients.
Pin