Pin
Bake-a-thon is a yearly baking series headed by Valli during December and I have been a part of it for the past two years. There will be a total of 13 baking recipes on Monday, Wednesday and Friday till the month ends. Since the last post was more related to the UAE National Day, I thought I would rather move the details of the series in this post. 😀 You can find all the posts related to the previous years here. While the first year, I did random posts out of the burgeoning drafts, I focused on chocolate bakes last year, and this year, I am doing based on the theme of individual servings. Just like the Khameer I posted as the first one…
As soon as I had started jotting out my posts for this series, I wanted to bake a scone, and somehow it had to be apples. I don't know where I got this fixation with apple. 😀 In fact, I do love apple bakes, they rank a close third after banana and carrot bakes. If you ask me my favorite apple cake I have baked so far, I would surely rank this one on the top. 🙂 OK, so coming back to the scones, after dreaming for a few days, I got to bake these when I had taken a sick leave from work. True, baking is a little bit of work, especially when it comes to the cleaning part. But this recipe is more of a one bowl bake and hence is less work. I made these with wholewheat flour and even then they were soft and perfect with a cup of hot black tea.
Before moving to this recipe, if you love scones like I do, then here are some that are already on the blog…
Eggless Apricot White Chocolate Scones – I ate the whole batch I baked, it was that good! 😀
Pin
Eggless Apple Walnut Scones
Ingredients
1

cup

wholewheat flour

3

tbsp

sugar

1

tsp

cornflour

3/4

tsp

baking powder

1/4

tsp

baking soda

A pinch of salt

1/4

tsp

cinnamon powder

30

gm cold butter

1

large apple

peeled and grated

2

tbsp

chopped walnuts

2-3

tbsp

yogurt

as required

Sugar and cinnamon powder for sprinkling on top
Instructions
Preheat oven to 180 degrees. Line a tray with parchment paper and set aside.

In a bowl, sift together all the dry ingredients (from flour to cinnamon powder)

Grate the butter into the flour and rub it in to resemble bread crumbs.

Add the grated apple and walnuts and mix well. Squeeze with hands so that the apple releases its fluid into the dough.

Add 2 tbsp yogurt and bring the dough together. Use more as required to just bring it together - do not knead.

Pat onto the prepared tray and shape into a round. Cut into six wedges.

Bake for 20 minutes for soft or 25 minutes for crispier.

Cool slightly and serve.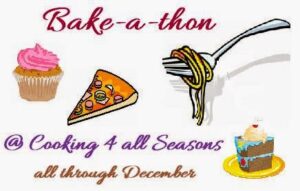 Pin
You are invited to the Inlinkz link party!