Pin
When I enrolled for the Bake-a-thon with Valli in October, I was in a lot of thought. How would the whole thing be? I have been a part of the Blogging Marathon for a few months now and it is a more themed activity, but this was thirteen days of baked goodies, with no specific theme as such. Since I had drafts available – referred to as "magic folder" by the BM team 😀 – and I thought I would be able to pull it out, I jumped into it and I am glad I took the plunge. Now looking back at all the posts I did for this marathon baking initiative, I am glad I participated in it. I sincerely hope I have done justice to it and selected the best of the baking recipes that I have tried, tested and succeeded in my kitchen. Do check out the tag "Bake-a-thon" to see all the posts done for this month.
Now we are on the last post for this series, and I couldn't find anything more apt than sharing this very interesting Almond Apricot Cake. Apricots is something that I buy and eat whenever it is in season, being one of my favorite fruits and almonds is a kitchen staple. I need to keep some all the time – to munch them along side with some dates or to have them as my post workout snack. Combining both of them seemed to be a very novel idea and I am so glad I did try it!
Pin
The inspiration for the cake came from this link. It is loaded with almonds in and out, since we use it for the body of the cake with a small portion of all purpose flour. The beauty of this recipe is that you can make it gluten free by using gluten-free flour. Due to the heavy portion of ground almonds in the batter, the cake is on the denser side but the flavor of it is amazing. My girls didn't enjoy it, they prefer spongy cakes as is with all kids, but HD and B loved the cake. I enjoyed it with a cup of black coffee, it seemed to go so well with it. Actually, it reminded me of the Flourless Clementine Cake I had baked some time ago. The next time I bake it, I will add some more chopped apricots and maybe a couple of spoons of apricot jam into the batter for more apricot flavor.
So that brings to an end the posts for the Bake-a-thon 2017. It was an interesting experience of posting all baked goodies on the blog as well as all the other bloggers who participated and bought along such interesting bakes along with them…
Pin
Almond Apricot Cake
Ingredients
3

tbsp

butter

melted

1 1/4

cup

sliced almonds

3

oz

aprictos

chopped coarsely

1/4

tsp

salt

1/2

cup

sugar

2

meduim eggs

room temperature

1/2

tsp

vanilla extract

1/4

cup

+ 2 tbsp all purpose flour

3/4

tsp

baking powder
Instructions
Preheat oven to 180 degrees. Cover the bottom of an 8 inch baking pan with parchment paper and grease well.

Sprinkle 1/8 cup of the almonds all over the parchment paper.

Add the remaining almonds, sugar and salt in a grinder and blend till finely ground. Empty this into a bowl.

Add the eggs, vanilla and butter and blend with a beater till smooth.

Add in the flour and baking powder and just mix till combined.

Pour the batter into the prepared pan and drop the slices of chopped apricots randomly in it. Tap the pan slightly to flatten the top.

Bake for 50 to 60 minutes, or till skewer inserted comes out clean.

Cool in pan for 10 minutes before flipping onto a cooling rack to cool completely.
Notes
To make the cake gluten-free, substitute the all purpose flour with gluten free flour.
This is part of the Bake-a-thon 2017…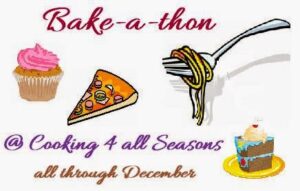 Pin
Loading InLinkz ...