Tough to choose between baking a cookie, cheesecake or brownie? Well, then have all three-in-one by baking these delectable bars!
Pin
What a year 2020 has been, Alhamdulillah! I don't know what to say. I have one more post coming up tomorrow so I will leave a little bit for that. But the major news this year is that after more than 19 years of having a job, running around like a headless chicken, trying to manage work and family along with studies first and then children, almost breaking down and then pulling myself up, I have decided to take a break. The decision has not been easy. I guess once you get the feel of earning on your own, contributing to the family expenses and investments, it isn't easy giving up on it. But I guess I am done with trying to out do myself all the time, trying to compare myself with how it is for others and also feeling sad as to how I actually never had any career growth, as per say. Even though the thought is giving me jitters, I am so looking forward to a few months of slow life and maybe it will give me some clarity on my life forward, InShaAllah…
Also, as I scheduled this post, I lost my elder ammayi yesterday. I don't know what to feel. After elappa's demise last year, we have all been wanting to hold on to whatever we have before Allah decides to take them. Ammayi had been in a lot of pain for many years and off late, her situation had got worse. We are always told that illness and pain is a way of removing our sins. As much as we would love to be positive in pain, it is human nature to give up when it gets too much to bear. Each time I would go to see her, I would feel sad for her and give a silent prayer to Him to give her whatever relief was meant to be. May Allah forgive her sins and give her His promised painfree life in eternity… Aameen Ya Rubb…
After enthusiastically starting this month's Bakeathon with the Tahini Banana Cake, we are here with the last post for this year. The main highlight has been the missing of Valli during this season. She is on a break, and a well deserved one, that is, after posting at break neck speed in both her blogs. I only hope that she fills up her energy levels to the brim and come back in full strength to her blogging.
Pin
I decided to keep this bake for the last, since I totally loved how it turned out, when the idea hit me during my casual browsing through the Bettie Crocker site. Well, this is a mix of the three greatest baked sweetness of all times – a brownie base, a baked cheesecake studded with chocolate chip cookie dough! What more to ask!
The recipe on the Bettie Crocker site used all boxed mixes, and I have a problem with it. Even to cheat, I don't like using boxed mixes. I would rather dump all ingredients in my pantry into a bowl and bake it, than make a cake out of boxed mixes. I have a real problem with it, and I am not sure why. Then when I searched again, I landed up on this link and then developed the recipe based on both my references. The brownie batter is baked just still stable, before spreading the cheesecake batter and dropping the cookie dough in between. Then it is slow baked till done and then cooled, before slicing and enjoying.
I didn't regret baking in a small pan, because this dessert is the height of decadence! I cut them into nine squares based on the cookie dough, and each small slice was so rich, that you would need a break before wanting to eat the other slice. The cookie was chewy, the brownie was fudge like and the cheesecake was well done. The only thing I would change next time is to bake it on a bain-marie, by placing the pan into a larger pan with a couple of inches layer of water. That way, the cheesecake wouldn't be dried up too much. Whatever said and done, this was truly a delicious bake… I surely can't wait to make it again and enjoy…
Pin
Before ending this post, please do hop on to all the posts that are appearing on the below linky tool, that were the contributions of all the amazing bloggers who participated in this event. I am sure you will find some beautiful and easy ideas for your next bake! 🙂
Cookie Cheesecake Brownie Bars
Ingredients
FOR BROWNIE BASE:

50

gm butter

1/4

cup

brown sugar

1/4

cup

all purpose flour

1/2

cup

cocoa powder

A pinch of salt

1/2

tsp

vanilla

FOR CHEESECAKE:

8

oz

cream cheese

1

egg

1

tsp

corn flour

1/3

cup

sugar

1/2

tsp

vanilla extract

FOR COOOKIES:

50

gm butter

1/4

cup

brown sugar

1/4

cup

white sugar

1

egg

3/4

cup

all purpose flour

1/4

tsp

baking powder

1/8

tsp

salt

1/2

cup

chocolate chips
Instructions
Preheat oven to 180 degrees. Line a 4 inch pan, with parchment paper hanging outside for easy pullng.

For the brownie layer, melt butter with sugar. Allow to cool slightly and whisk in the remaining ingredients. Pour into the prepared pan and bake for 10 minutes.

For the cheesecake, beat all ingredients till smooth.

And then make the cookies by beating the butter and sugar till fluffy. Add the egg and beat. Add in the rest of the ingredients and fold with the spatula. Roll into nine balls and keep ready.

Pull out the pan. Reduce the temperature to 160 degrees.

Spread the cheesecake batter on the brownie. Drop the cookie balls in equal spaces.

Bake for another 50 minutes.

Allow to cool completely, and then cool in the fridge for a couple of hours until set. Cut and serve.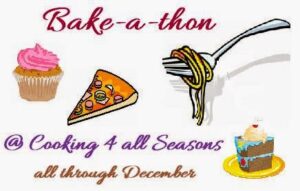 Pin
You are invited to the Inlinkz link party!