Jump to Recipe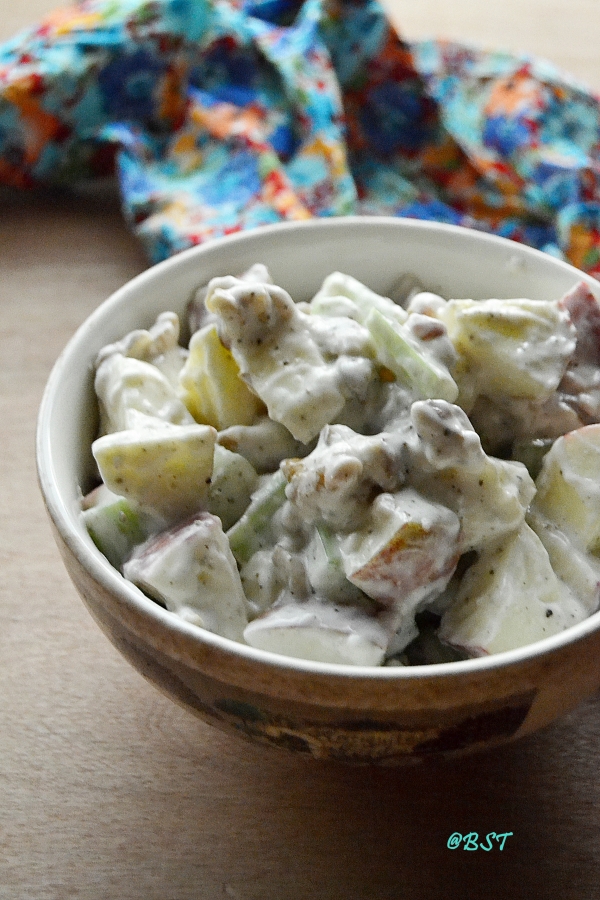 My first tryst with Waldorf Salad was when my eyes fell on a box of it at a supermarket chain close to our house. They keep on their chiller shelves variety of cold salads and sandwiches and this one immediately caught my fancy. Normally, it is strange of me to be checking the salad chiller for anything interesting, since I would have normally looked at the sweet stuff, but of late, I feel homemade sweets, cakes and desserts are far better in taste. I thought I was the only one who thought so but a lot of bloggers and foodies have confessed that sometimes you order for a sweet with high expectations, and at the first bite, you are like, "Darn, I make better than this!" 😉
Well, coming back to the recipe, to know more about the history of this salad, you can read here. As you can see from the link, the intial salad did not have the walnuts, but actually speaking, I love how the walnuts paired so well with the crunchy apple and celery. You can even add chicken shreds though it is not a part of the original recipe. This is so quick to whip up and hardly takes time to put together and enjoy on a day when a light meal is all you need!
This seems to be the first post on a February 22 on this blog! 😉
Waldorf Salad
Ingredients
2 hard apples (i used Royal Gala)
1 tsp lemon juice
½ cup celery chopped
⅓ cup chopped walnuts
1 tbsp raisins
3 tbsp mayonnaise
3 tbsp yogurt
Salt and pepper to taste
Instructions
Peel and chop the apple into small cubes. Sprinkle the lemon juice over it to avoid discoloration.
Toss the apples, celery, walnuts and raisins in a bowl and mix well.
Combine mayonnaise, yogurt, salt and pepper in a small bowl and whisk well.
Pour over the apple mixture and toss well to coat.
Serve immediately.