Pin
While I had posted the One Pot Turmeric Veg Rice, I had hinted I would be sharing my version of the vegetable pulao soon. Thankfully, the "soon" has just arrived. 🙂 This rice is something I make whenever we are going out prior to lunch for an outing.
At the moment, it is not advisable to even show your face out in the afternoon, but once October comes by, then majority population will be found at the beaches and parks enjoying their time out. We do not have a friend circle as such, so mostly we don't move out. I don't know if it's a good thing or a bad thing. We do get together for barbecue and lunches with a small group of friends whom HD is comfortable with, otherwise our weekends even during the good months are quiet. I, being a "social" being, crave for more meet-ups and end up arranging something by myself with my set of friends so that the girls also can join in and can have their time. I guess life is all about managing the spouse that He gifts, in whichever condition they are… 😀
OK, coming back to the pulao, just like the chickpea pulao, I do fried onions for my vegetable pulao as well. I don't need to mention how much flavor and aroma fried onions can add to a simple dish. To justify my lazy bone, I have used frozen vegetables for this one, but in the comments, I have mentioned about using fresh vegetables, which I do when I have a lot of time and am in an elaborate mood. Off to this very simple recipe…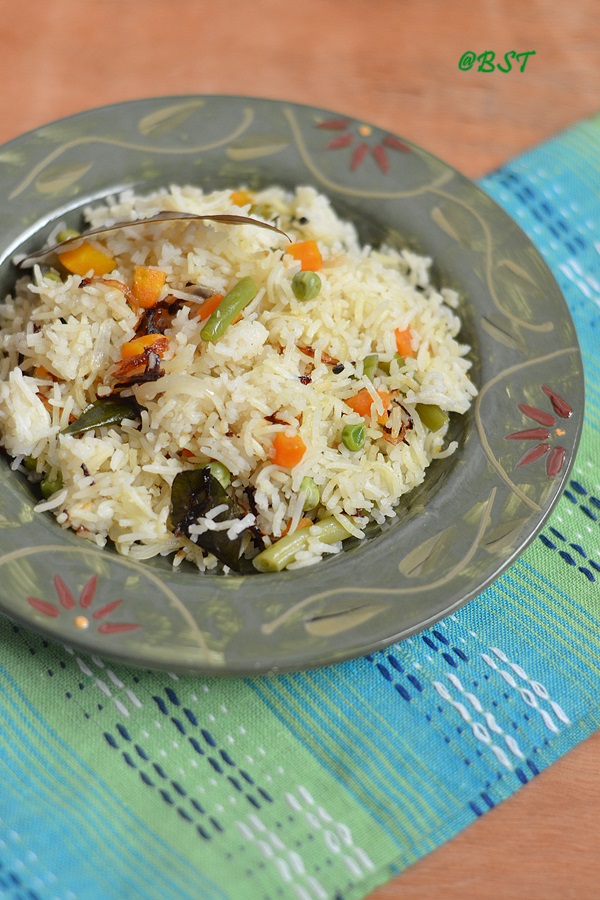 Pin
Vegetable Pulao
Ingredients
3

tbsp

oil/ mix of oil and ghee

1

small onion

thinly sliced

1

cinnamon bark

1

bay leaf

3

crushed cardamom

2

cloves

10

black peppercorns

10-15

cashew nuts

optional

1

sprig curry leaves

1

onion

chopped

2

cups

mixed vegetables

I have used frozen carrots, peas, beans

2

cups

basmati rice

soaked for 20 minutes and drained

3 1/2

cups

hot water

1/2

tsp

garam masala

Salt to taste
Instructions
Heat the oil in a saucepan. Add the onion and fry till browned. Drain and set aside.

In the same oil, add the whole spices, cashew nuts (if using) and curry leaves and fry briefly. Add the second onion and saute till wilted.

Add in the vegetables and saute for a few minutes.

Add in the rice and saute for five minutes till rice feels crisp.

Add in the water, garam masala and salt and give a good mix. Keep on high flame till the water comes to a rolling boil.

Reduce flame to bare minimum and cook till the water has evaporated and rice is completely cooked.

Add back the fried onions and fluff up with a fork.

Serve hot with side of your choice.
Notes
If using fresh vegetables, chop them into small pieces to make it easier to cook. I usually use carrots, beans, potatoes and cauliflower along with frozen peas while making it that way. In this case the cooking time will be a little more than the frozen vegetables.