Sweet tarts made with puff pastry and filled with a decadent chocolate and toffee filling…
Pin
As you may be aware if you read the blog, this month we are having all baking recipes as a part of the Bakeathon. Today it is time for a chocolate based recipe, and even though the puff pastry is not chocolate flavored, you can still forgive it when you bite into these decadent tarts. Hehe…
Let me let out a secret here. I bought two packs of puff pastry sheets, used 14 of them for these chicken mushroom tarts and hid the remaining six to make these deliciously sweet tarts. Has that happened to you? Hehe… Sometimes, when my head hits the rut and I lose my interest in cooking, all I do is to go through my cookbooks and pick one. I just randomly flip and read through any recipe that catches my interest. It is not necessarily I cook that, but it gives me a rush of ideas to try something new or maybe just cook a basic recipe. Does that happen to you? As I flipped through a dessert book, my eyes fell on these tarts. I made a mental note and made sure I saved up some puff pastry just to make this really easy dessert.
Pin
Pin
The recipe is divided into three layers – the puff pastry, the chocolate custard and the toffee. In the original recipe, toffee bites were inserted into the tart before baking, but since I didn't know which one to buy, I went ahead and made some toffee sauce. The puff pastry is lined in a muffin pan, the toffee sauce is poured on and then topped equally by the chocolate custard sauce. The next step is to wait with unabated breath till the puffed up tarts come out of the oven, looking like chocolate flowers and oh-so-delicious…
I would only warn of one mistake I made. Since the puff pastry already has fat, I didn't grease my muffin pan, which turned out to be a big mistake. As it puffed, it flowed out of the hole and therefore stuck to the sides. It did give me a little panic. But as it cooled, it slowly started loosening up, though it wouldn't come out nice and clean. So please take from my mistake – grease the whole muffin pan well. "Whole" means even the top. This tastes better when eaten warm, so you don't have to do too much waiting. We immediately gobbled it down without anything along with it. But I bet some whipped cream or some cold custard would be amazing with these tarts for sure. Off to the recipe…
Pin
Toffee Chocolate Pastry Tarts
Ingredients
6

puff pastry squares

thawed

50

gm chocolate chips

125

gm thick cream

2

large eggs

room temperature

A dash of vanilla extract

FOR TOFFEE SAUCE:

1/4

cup

brown sugar

1

tbsp

water

10

gm butter
Instructions
Preheat oven to 180 degrees. Grease a 6 cup muffin pan.

Spread the puff pastry squares into each of the hole. Allow to chill till the filling is prepared.

For making the toffee sauce, add the sugar and water into the pan and cook on low flame till all melted and caramelized. Add the butter, swirl in and switch off. Allow to cool.

Add the chocolate and cream into a bowl and microwave for 30 seconds. Whisk till smooth.

Beat the eggs with the vanilla for a minute with a whisk and add into the cream mixture, whipping till all incorporated and smooth.

Take out the chilled puff pastry tin. Divide the toffee sauce into each of the puff pastry and then top with the chocolate mixture.

Bake for 30 minutes. The puff pastry will look cooked and puffed, and the chocolate filling will puff up as well.

Cool in the pan for five minutes and slowly take out the tarts. Serve warm as is or with a dollop of ice cream or whipped cream.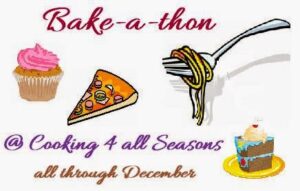 Pin
You are invited to the Inlinkz link party!