I finally watched "English Vinglish", after wanting to see it for ages. Ahem, I know I am late, but still… 🙂 When I was in school, I used to be an ardent Sridevi fan. I used to get wild at the Madhuri Dixit fans who used to call Sridevi "ugly". I mean, they never knew the true meaning of ugly, did they? Now when I think about all that, it feels funny. That was long back…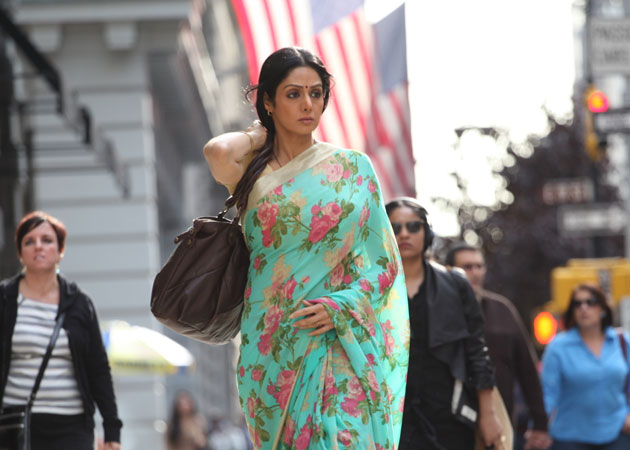 Love this saree of hers… 🙂
As of now, I can proudly say that I hardly watch movies. In fact, I do not have the patience to sit and watch movies. But ever since I heard Sridevi was making a come-back and the movie was receiving rave reviews, I just wanted to go and watch it in the theatre, which obviously did not happen. Then my B downloaded the movie some time ago (I forgot when!) for me to watch, but then I just kept pushing it as I had no time. This Friday, I had all the time in the world, with only the little one with me, so went ahead and watched it.
What a movie it was! The typical plight of an average educated Indian mother! Hats off to Sridevi who gave such a charged perforrmance to the character, Sashi. I loved that French guy as well – I somehow feel that he is there in everybody's life. A feel-good factor to look at, when you start feeling that you are being pushed down and being made miserable. It can be somebody, something, some place… 🙂
OK, so much for English Vinglish, today's recipe is a straightforward vegetarian curry with a little twist – read, bouillon cubes! All of us make it with similar ingredients, but in each other's style. Today I am sharing with you my style. I used to not add yogurt, but I've seen my moothamma (dad's big bro's wife) add it into her peas curry and it does give a nice tangy flavor to the whole thing!!! So off we go…
Green Peas Masala
Ingredients
1

cup

green peas

soaked overnight

1

tbsp

coconut oil

2

onions

sliced

3

chillies

slit middle

1

tsp

ginger paste

1

tsp

garlic paste

1

large tomato

chopped

1-1/2

coriander powder

1/2

tsp

turmeric powder

1/2

tsp

red chilli powder

1/2

tsp

Kashmiri chilli powder

1/2

tsp

garam masala powder

1/2

tsp

fennel powder

1

tsp

black pepper powder

1

cube chicken stock/ all seasoning powder

optional

3

tbsp

yogurt

Salt to taste

Coriander leaves/ curry leaves for garnishing
Instructions
In a saucepan, heat the oil. Saute the onions and green chilies till translucent.

Add the ginger-garlic pastes and tomatoes and cook till the tomatoes get smashed.

Now add all the masalas and cook for a couple of minutes till the masalas are cooked.

Allow the masala to cool and grind into a fine paste.

Put the soaked peas into your pressure cooker and add water till its level.

Add the stock cube and cook till done. I put it on one whistle and leave it for 15-20 minutes on low flame. Switch off and allow the pressure to go by itself.

Once the peas are cooked, add the masala back to the cooked peas and simmer for 15 minutes till the flavors are locked in.

Beat the yogurt with a spoon and add into the curry. Mix well and cook till just hot.

Switch off and serve hot with rice, chappathi or vellapam!!!
Notes
1 If you forget to soak the peas overnight, then soak the peas in very hot water for 2-3 hours, then it will be ready for cooking.
2. You can substitute frozen peas as well, but I prefer normal peas.
3. You can skip the chicken stock cube for a full vegetarian version! I add it so that the family feels the non-vegetarian taste!