Pin
I guess it is time to get back to reality after basking in some glory after the Chocolate Mousse Cake. Hehe… This week has been quite busy with guests from HD's home. My whole schedule has gone for a toss, but for that matter, from November end, nothing has been as per schedule. It is just being twisted and tweaked as per how circumstances are coming and falling in place. But InShaAllah, after they leave on Saturday, I should be able to come back into my routine of everything, especially my workouts, that I am struggling to come back to. I always feel that I eat better the time I workout and vice-versa. I really don't understand my thought process, when most of the time, it is the way around for many people! So let's see how it goes… The climate has been kind. It is kind of cozy most of the time, with bouts of extreme coldness and the general feel is only to round up on the couch with a throw intact and something hot to drink all the time… 🙂
On a Friday afternoon, when I run out of ideas and ask my family what they would like to eat, they would unanimously say – Majboos! Once a month is mandatory now at our place. When umma comes, then it may repeat again within the month – that much she loves it. I always have a bottle of the Bezaar spice ready in my pantry and making this rice is also super easy. Once you put all your ingredients in place, all you need is one pot to go about the whole process. Even though this recipe doesn't feature on the popular recipes on the blog, I must say it is the most tried and the amount of feedback I have received is enormous. It feels nice to know that this dish is loved by many and so much that they make it when they have guests! I feel very happy when I receive such messages and comments. 🙂 Majboos is not only made with chicken but you can make it with other meat too. Just like this one made with mutton…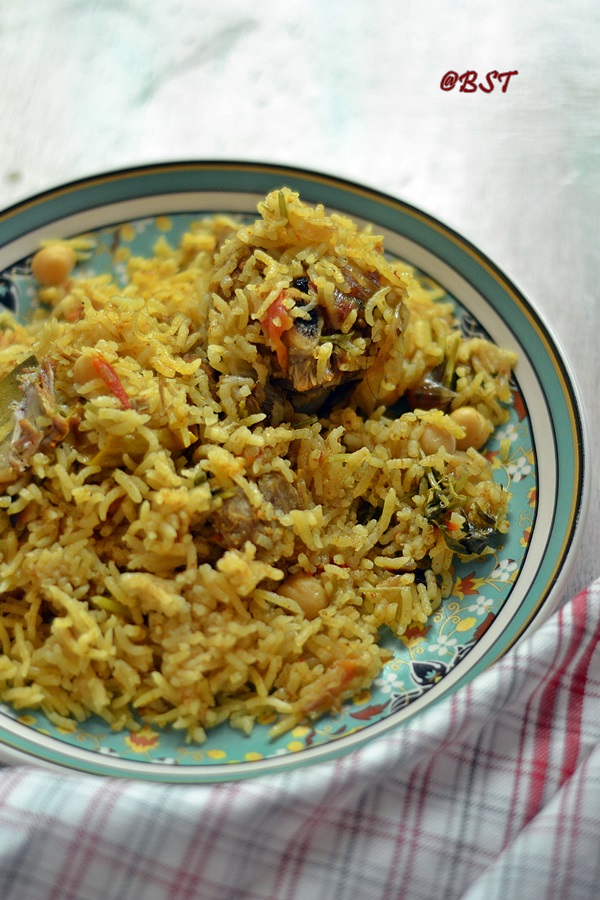 Pin
HD loves mutton a lot but because of his uric acid problem, I try to cook it minimally at home. He has been behind me to try the majboos recipe with mutton since long. Before I used the same recipe, I checked around and found that there wasn't much of a difference except for partly cooking the mutton, since it takes time to cook. Moreover, if you notice, the local community always cook big chunks of meat, so what is added to their rice or curry dishes are cooked for a long period of time to ensure that the meat falls off the bone. I have used regular sized chunks of mutton that we would usually buy for our curries and rice to cook this dish.
Like I mentioned, the only difference is cooking the mutton with some water, and then adding it back to the rice for final cooking. The rest of the procedure remains the same. I have added a tin of drained chickpeas into this dish, which is optional, but adds a nice dimension to the flavor of the rice. The chickpeas was a part of the original chicken majboos recipe, however I never used it there. I tried it with the mutton and we loved it. The day I made it, the mutton was all fished out and I had little rice remaining. 😀 Since the rice in itself is so flavorful, all you need is some yogurt and pickle to wipe it clean! Off to this simple recipe…
Pin
Lahm Machboos | Majboos ~ Emirati Mutton Rice
Ingredients
FOR MUTTON:

500

gm mutton

cut and washed

2

heaped tsp bezaar spices

1/2

tsp

turmeric powder

1

tsp

Kashmiri chilli powder

4

cloves

garlic

crushed

1

lime

juice extracted

Salt to taste

FOR RICE:

1/4

cup

olive oil

2

large onions

sliced

2

medium tomatoes

chopped

2

cardamom

crushed

1

tsp

black peppercorns

1

stick cinnamon

2

bay leaf

3-4

cloves

2

loomis

dried lime

2

cups

basmati rice

soaked for 30 minutes and drained

1

stock cube

1/2

bunch coriander

A pinch of saffron

soaked in 2 tbsp hot water

1

tbsp

ghee

1

small can chickpeas

drained
Instructions
Toss the mutton into the ingredients mentioned under "for mutton". Marinate for 10-15 minutes.

In a pressure cooker, add the mutton along with one cup of water. Pressure cook for three whistles, and switch off. Allow the pressure to go by itself.

Drain the mutton and reserve the stock. Measure the stock and fill up with water to make it 3 cups.

In a large saucepan, heat the olive oil. Add the onion and fry till browned. Reserve half the fried onion.

Add the drained mutton and toss for a couple of minutes.

Add the tomatoes, whole spices and loomi and cook till tomatoes are mashed.

Add the stock mixture and bring it to boil. Add the stock cube and rice. When boiled again, lower to the smallest flame, and adjust seasoning. Cook till rice absorbs almost all the water.

Now sprinkle the remaining fried onions, the chopped coriander, the saffron water, the ghee and the drained chickpeas on top. Cover the lid tightly with foil or a muslin cloth and cook on steam for around 15-20 minutes.

Switch off and allow to rest for a few minutes. Fluff up well before serving it hot with accompaniments of your choice.