Pin
I mentioned I had guests in my last post. They left for home on Saturday and reached safely, Alhamdulillah. One amongst them was HD's uncle, who had taken care of him when his parents passed away young. He owns a successful restaurant in an outskirt in Salalah, which is well known for its rotisserie chicken. He loves to cook once in a while, and when we are back home, he would get into the kitchen to fry fresh fish that he would get and come or make this delicious chilli chicken of his. The first time I tasted it was when he came on visit a couple of years ago. He asked HD to get one rotisserie chicken and asked me to slice the onions and tomatoes for him. The speed at which he made this dish was amazing, despite being an unknown kitchen for him. We mopped it off totally with some porottas. I had a pleasure of having it again last time – 2018 – when I went to stay. He had got some king prawns and knowing I can't eat prawns, he bought a fresh chicken too. The house was full with all of HD's cousins and kids turning up. We had a total blast in the kitchen, helping him with the side work and chewing on the bones after shredding the chicken… hehe…
From then on, I have been wanting to make this and share it on the blog. If you see, there are hardly any fancy ingredients going into this dish. But the end result is really tantalizing. I feel it is mainly due to the use of the fried onions and the garlic. Uncle doesn't use any sauces for his chilli chicken, but if you would like the final dish to have a deep red color as you would see in restaurants, then a dash of red chilli sauce with a little ketchup would do the trick. Even though it looks a labourous task, replacing the cooking of chicken with a store bought rotisserie chicken makes it even more easier. We love to mop this up with some parathas or simply bread! Before moving onto this recipe, here is a saucy chilli chicken made in Indo-Chinese style that goes awesomely well with fried rice. Off to this recipe…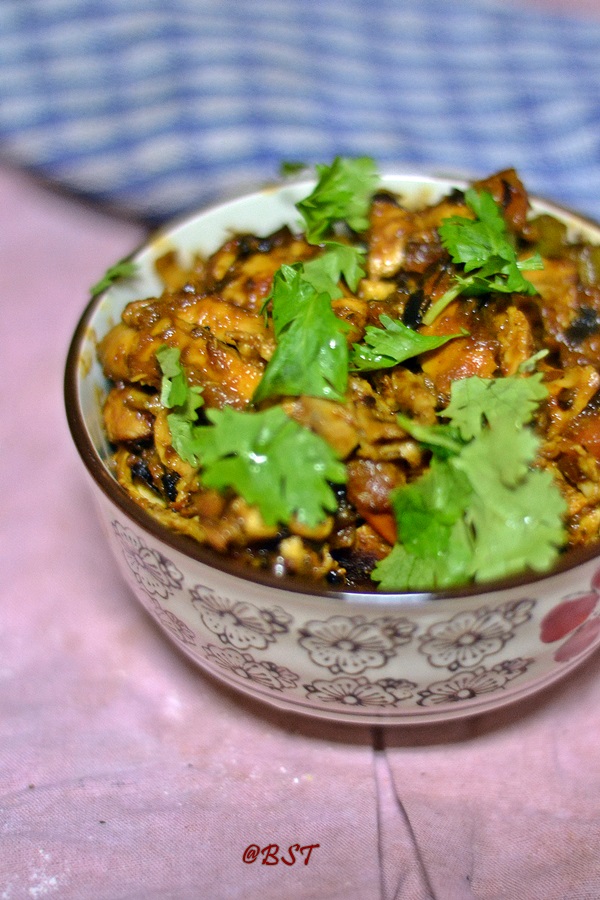 Pin
Restaurant Style Chilli Chicken
Ingredients
FOR COOKING CHICKEN:

1

kg

chicken

bone in

1/2

tsp

turmeric powder

Salt to taste

FOR MASALA:

3

large onions

thinly sliced

Oil for frying

1

heaped tbsp garlic paste

3-4

green chillies

minced (as per spice level)

2

large tomatoes

1/2

tsp

turmeric powder

1

tsp

chilli powder

1/2

tsp

fennel powder

1/2

tsp

garam masala

Salt and black pepper to taste

Coriander leaves for garnish
Instructions
Cut the chicken into medium pieces. Wash and drain. In a saucepan, add the chicken, the turmeric and salt. Pour water upto the level of chicken. Bring it to boil and cook till the chicken is done.

Strain the chicken, allow it to cool. Shred the chicken and discard the bones.

In a saucepan, heat enough oil for frying the onions. Fry the onions till nicely browned. Drain and set aside. Spread on a plate, so that as it cools, it gets crispy.

In the same pan, discard some of the oil and keep just enough to do the rest of the process. Fry the garlic paste and green chillies till an aroma comes.

Add the tomatoes and saute till wilted. Add the spice powders and toss to coat.

Now add in the shredded chicken. Crush the oions and add that in too. Sprinkle and little bit of water and cook on simmer for the next five minutes. Toss the mixture well.

Adjust the seasoning, add the coriander leaves and switch off. Serve hot with chapathi or porottas!
Notes
Instead of cooking your own chicken, you can get a rotisserie chicken, shred it and then use it by cooking the masala.
I keep the green chillies minimal and spice it up more with black pepper. You can add red chilli paste for a more reddish appearance.