Pin
Here I am with the next week of recipes for the Blogging Marathon #109. I chose a theme that I totally love. There are no points for guessing – it has to be chocolate! The theme is aptly called "Anything and everything with chocolate" and I had no qualms about choosing this. After all, chocolate is something that we all love and would love to incorporate it into our daily eating, if life permitted. Thankfully, scientists have declared that dark chocolate takes care of your happy hormones, so that gives us permission to include at least one square into our daily eating. What say? 😉
The first post is a recipe I have been wanting to try since ages. I always enjoy my home made hot chocolate, either made this way with chocolate chips or simply with cocoa powder. When I am haunted by outdoor cravings, there is this thick hot chocolate that you get at Paul's, which is so different from any other cafe. The drink is very thick, almost like a pudding and feels like a hug on a cold day. I really mean it. I would go and have it whenever I was in a mood to splurge, but then slowly I realized that it was actually a packet drink. They would just pour it off, warm it and serve. It broke my heart, if I were to say, and then I never went back to having it at the cafe. 🙁
I was craving for that kind of a hot chocolate during one of these cold nights – talking about it, this time, winter seems to having a mood of its own. When it feels like, it become warm even at nights, and then all of a sudden, it blows wildly, making it difficult to walk bare foot inside the house. OK, so coming back, I was scrolling through my phone and then my eyes fell on a Tasty video that made hot chocolate with corn flour and that looked exactly like the one from Paul. It was a eureka moment – I had all the ingredients in my pantry and I got to making it. What an experience this hot chocolate was! It was silky smooth, luscious in every sip, a total chocolate lover's dream! I simply urge you to try it. I ended up literally using my fingers to clean up the mug – sorry, but not sorry! 😀 Off to the recipe…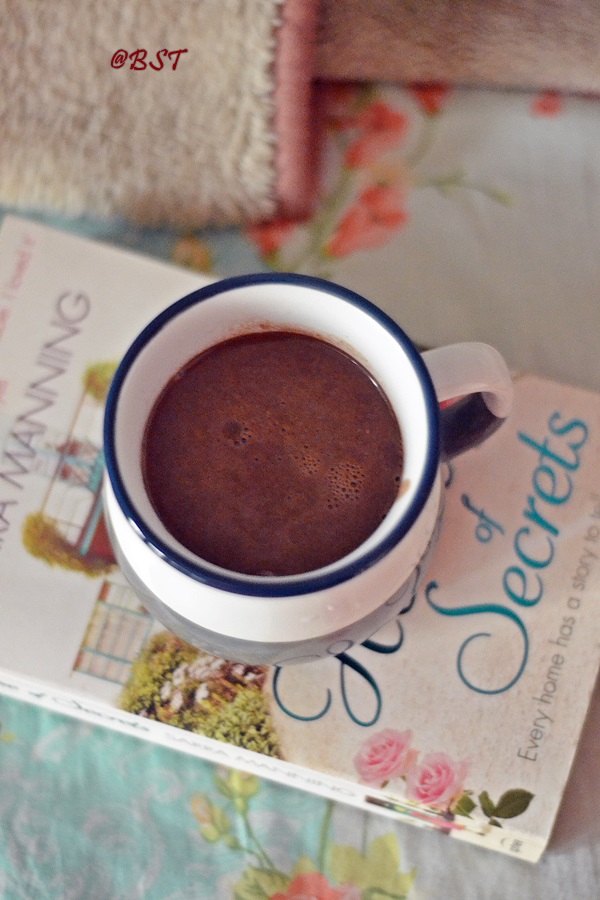 Pin
French Hot Chocolate | Paul style Hot Chocolate
Ingredients
1

cup

milk

I used 1/2 milk and 1/2 water

1

tsp

corn flour

diluted in 1 tbsp water.

40-50

gm dark chocolate

1/2

tsp

vanilla extract

1

tsp

sugar or preferred sweetener
Instructions
Add the milk and diluted corn flour and whisk well till no lumps.

Keep on low flame and add the chocolate. Keep whisking the mixture till the chocolate melts and the mixture becomes glossy. Cook till hot.

Add the vanilla and sugar, mix well and switch off. Serve immediately and relish!
Notes
You can replace a part of the milk with little cream to make it a little more rich.
I used 90 percent Lindt chocolate to make this drink. Use chocolate of your choice, though dark is always preferred.
You can spike it up with any spice you want, though I would always stick to the vanilla.
Pin