Pin
Deciding to participate in the Bake-a-thon 2018 actually helped me clean up some of my to-do list. One of them was definitely this flan cake or magic cake, as it has been called in some places. Whoever came up with this fantastic idea needs to be patted at the back. When you want cake and pudding together, but don't want to make it in several pans, all you do it is bake them together and let the magic happen! The base is a normal chocolate cake, and the top is a creme custard, duly topped with a caramel topping.
Now what happens? Here we apply a little bit of our chemistry knowledge. Haven't you heard of density? Yes… so since the density of the cake batter is heavier than that of the flan batter, in the process of baking, the cake magically moves up and the flan pushes itself down, giving this beauty of a dessert! Science is amazing, isn't it? I never liked science in school and that explains why I ended up being a commerce student throughout. 😀
Pin
Pin
My only advise to all of you if you want to bake this is to either use a neat bundt pan, which doesn't have too many designs or curves, or to make it even more easier, to use silicon bundts so that it would come off clean. The mistake I did was I used a flowery bundt pan for this and I had a tough time pulling it out clean. 😀 That is why you can see some untidy patches on the flan. But definitely that didn't impact the taste, just saying… 🙂
You can make the flan with chocolate flavors too, but I feel then you wouldn't be really able to enjoy the lovely brownie like cake at the bottom. The eggy flan and the chocolate cake makes it an amazing combination. With the caramel topping, I found it a bit sweet, so next time if I do make it, I may end up skipping that process. If you also wish to skip, the only problem is that you wouldn't have a pretty golden brown top to the cake. All in all, it is an amazing bake and a delicious one to have as a treat too… Off to the recipe…
Pin
Chocolate Flan Cake
Ingredients
FOR CARAMEL BASE:

1/3

cup

sugar

2

tsp

water

1

squeeze lemon juice

FOR THE FLAN:

1/2

can condensed milk

170

ml

can evaporated milk

4

ounces

cream cheese

3

large eggs

1

tsp

vanilla extract

FOR THE CAKE:

1/4

cup

sugar

1/2

cup

flour

1/4

cup

cocoa powder

1/4

tsp

baking soda

1/2

tsp

baking powder

1/4

tsp

salt

1/4

cup

milk

1/4

cup

oil

1

large egg

1/2

tsp

vanilla extract
Instructions
Preheat oven to 160 degrees. Grease a 6 cup bundt pan really well on all sides. Keep a large deep pan ready and settle the bundt pan in it.

Prepare the caramel first. Heat the sugar and water, swirling it till it boils and becomes an amber shade. Squeeze in the lemon juice and switch off.

Pour into the prepared pan and allow it to cool slightly.

Then prepare the cake. Whisk together ingredients from sugar to salt in a bowl.

Beat the wet ingredients till well combined. Pour into the dry ingredients and fold in till moist.

Spread the batter on top of the caramel sauce.

Whisk all the ingredients under "for the flan" vigorously till mixed well. Use only a whisk. Pour over the cake batter carefully.

Place the bundt pan into the large pan.

Pour hot water into the pan upto half of the bundt. Carefully slide into the oven.

Bake for 60 minutes till skewer comes out clean. Take out the pan and cool on a wire rack.

Cool in the fridge for two hours. To release, run on some hot water, tap the sides and push down onto a plate. Slice and serve.
Notes
You can use dulche de leche (DDL) as base instead of making the caramel. You can even omit this step.
To make the whole dessert as chocolate, you may add two tablespoons of cocoa powder into the flan batter.
Linking this up to Valli's Bake-a-Thon 2018 event…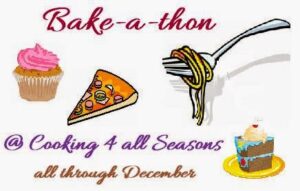 Pin
Loading InLinkz ...