A very easy vegan scramble made with tofu, that can be great for breakfast or brunch…
Pin
This week has been difficult. I lost my ammayi – who is my uncle's wife – in her battle of SLE on Sunday. She has been suffering this illness since long, which slowly and steadily deteriorated her health in ways that are difficult to accept. When I went home for my cousin's wedding in end of January, she looked a reflection of herself, but little did I know that this was going to be our last meeting. One side of mine is relieved that she is finally devoid of all the pain and suffering she went through in her life. Allah has promised His Eternal Home for those who go through life's tests with patience.
And We will surely test you with something of fear and hunger and a loss of wealth and lives and fruits, but give good tidings to the patient, who, when faced with a disaster, say, "Surely to Allah we belong and to Him we will ˹all˺ return." (2:155-156)
"Be patient [steadfast]: God does not let the rewards of those who do good go to waste" (11:115)
Despite going through so much pain and issues, she was never without a smile. I have never heard her complain about her situation. All I can pray now is that our Lord gives her what is worth for her in her hereafter… Her death was as saddening as my elappa's a few years ago… But the show must go on. The living must live on, praying for those who have departed for their good eternal life and with hope that we meet them in His vast paradise, InShaAllah…
Talking of commitments, I signed up for the Shh Cooking Secretly Challenge and for the month of February, the theme was "Protein Rich Vegetarian Breakfast", as suggested by Renu. My partner is Aruna, who is back to blogging after a really long time and she suggested my secret ingredients to be garam masala and kasuri methi. I eat eggs for my breakfast all the time and usually don't exercise my thought process too much in this case. For this theme, I had to think a little hard. Even though as Indians, breakfast is a staple food, it is more carb-centric than protien-centric. It is during this time my mentor asked me to try tofu as an alternate form of protein in lieu of non-veg. My instant thought was to make scramble out of it. I found that tofu had absolutely no flavor on its own, but it is good at adapting to anything you add to it. The recipe is very straight forward. I used our normal base of onion and tomato and the regular spices to go with it. The beauty of tofu is that it doesn't need much cooking time. All you need to do is crumble, add and cook for just a couple of minutes till it mingles with the flavors. Unfortunately, as soon as I had the first bite of tofu, my mouth started itching and I realized it isn't for me. So with this burji ends my rendezvous with tofu. However, HD loved it so much that he enjoyed it for breakfast two days in a row. 😉 Off to this simple recipe…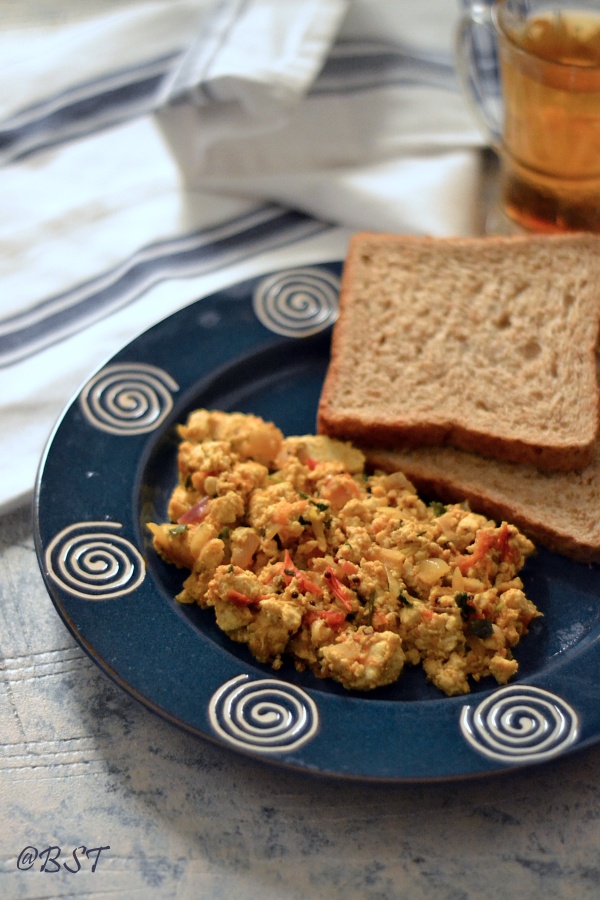 Pin
Tofu Bhurji | Spicy Scrambled Tofu
Ingredients
1

tbsp

oil

1

tsp

mustard seeds

1

tsp

cumin seeds

1

tsp

ginger garlic paste

1

onion

thinly sliced

3-4

green chillies

minced

1

large

tomato

chopped

1/4

tsp

turmeric paste

1/2

tsp

red chilli powder

1

tsp

Kashmiri red chilli powder

500

gm

tofu

crumbled

1/4

tsp

garam masala powder

1

tsp

kasuri methi

crushed

Salt to taste

Coriander leaves for garnish
Instructions
In a saucepan, heat oil. Splutter the mustard and cumin seeds.

Saute the ginger garlic paste till raw smell is gone.

Add the onion and green chilies, along with some salt and saute till wilted.

Add the tomatoes, turmeric and red chilli powders and cook till all mashed. Sprinkle a little water to avoid sticking to the bottom.

Add in the crumbled tofu and toss. Cook for another five minutes.

Sprinkle in the garam masala powder and kasuri methi, adjust seasoning.

Switch off, add coriander leaves and serve hot with bread or rotis.
Pin