Pin
While I posted the Idiyappam/ Noolputtu recipe couple of months ago, I had hinted that I would post the Ishtu recipe too. It was peaking from behind, so it didn't make sense to delay this post indefinitely. Hehe… After all the combination of these two is quite a hit…
I always wonder why Ishtu is called so. I am sure it is the Malayalamized version of the English word "stew". Can you see the connection? When umma would make this, I would always think that she is making fun of the name, but lately realized that she was saying its proper name. 😀 I guess we all would have thought of it that way some time in our life! Ishtu is basically a potato stew, made with minimal spices and coconut milk. It is very easy to make, but the spices added gives it such a delicious dimension.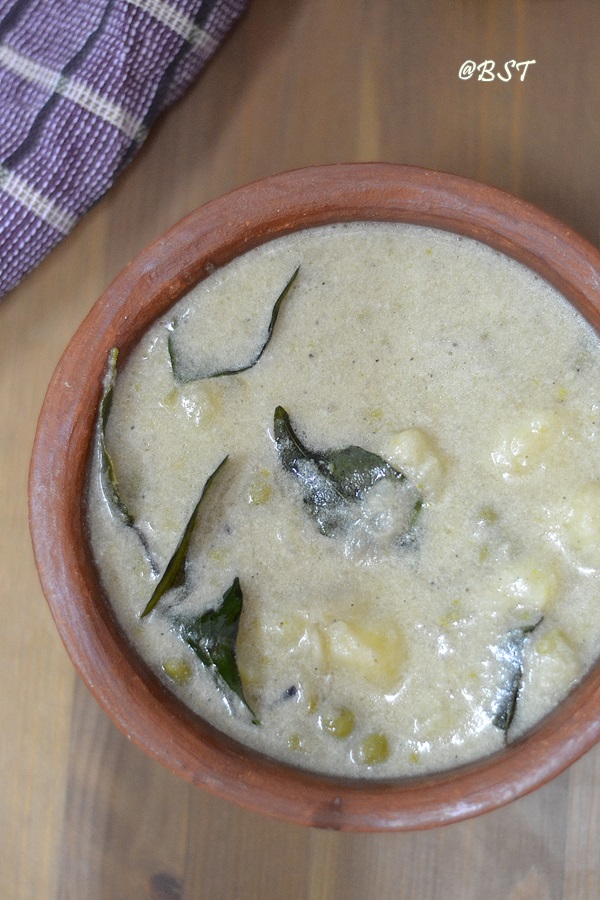 Pin
Can I tell you a secret? I never liked umma's ishtu. OK, she will kill me, hehe… Once, she asked me to make and I pulled out the recipe from Lakshmi Nair's book and made it. After that, I am the Ishtu queen in the house! 😉 I have tweaked the recipe a little bit with time and now make it the same way I am posting today. The main star of this is truly the potatoes but I add some frozen green peas as well. You can add carrots, beans and cauliflower too, to make it more colorful!
Just like every curry, the Ishtu has its non-vegetarian counterparts too. You can make it with chicken or beef, but the potatoes have to be there! This stew is usually off white in color, but I have seen some sides adding turmeric powder and making it yellow, though I wouldn't like it that way. The Ishtu is always served with noolputtu or with vellappams usually. I have not seen it served with anything else. But I feel it taste delicious with some hot porottas too… Just saying… 😉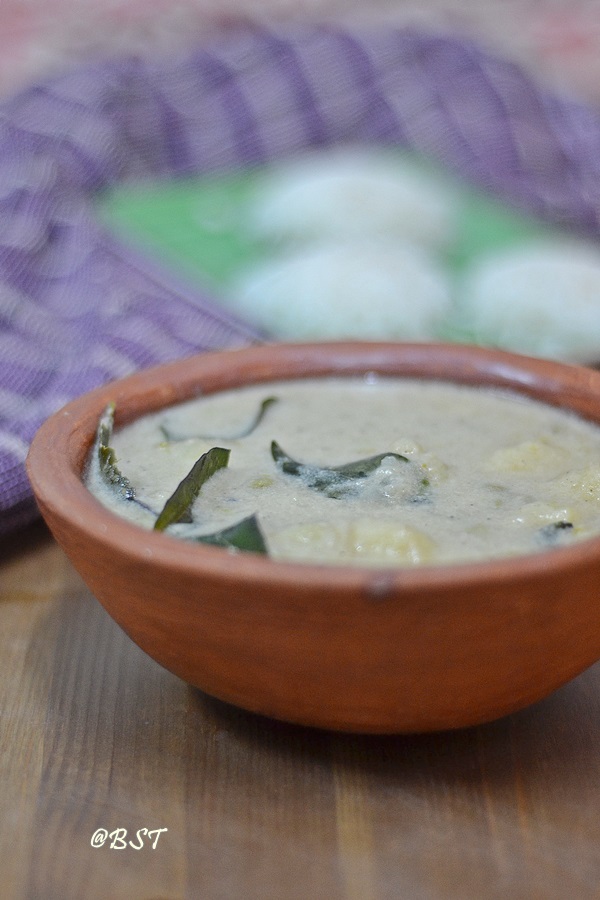 Pin
Ishtu ~ Malabar Vegetable Stew
Ingredients
1

tbsp

coconut oil

1

tsp

black peppercorn

slightly crushed

2-3

cloves

1

cinnamon

1

tsp

ginger paste

1

large onion

sliced thin/ 1/2 cup sliced pearl onions (cheriyulli)

2

large potato

peeled and chopped

1/2

cup

frozen green peas

1

cup

thin coconut milk

1/2

cup

thick coconut milk

1/4

tsp

garam masala powder

Salt to taste

1

sprig curry leaves
Instructions
Heat coconut oil in a pressure cooker. Sizzle the whole spices.

Fry the ginger briefly.

Add the onion and saute till wilted.

Add in the potatoes, peas and thin coconut milk. Add salt and cook on high flame till one whistle.

Switch off and allow the pressure to go by itself.

Open the lid, keep flame on simmer. Add the thick coconut milk and garam masala and simmer just till warm. Switch off and add the curry leaves.

Serve hot with idiyappam or vellappam.
Notes
You can add other vegetables into the stew, like beans, carrot, cauliflower, etc. though I like to keep it limited to potatoes and green peas.