Pin
I hope you are feeling glad to see the guest post series coming back to a normal schedule. 🙂 I am enjoying it a lot! I am glad that I restarted the series and getting the interest of lovely bloggers who will be gracing this space during the coming months, InShaAllah… so do stay tuned! 🙂
Meanwhile, this new kid on the block was due since July! I wanted her on board as a guest during Eid-ul-Fitr but Ramadan and her vacation spoiled our plans. Nonetheless, I left it to her to come back when she feels ready to do it. I believe guest posts have to be a relaxed affair. The host in the form of myself and the guest have to be comfortable with the arrangement. I also knew she would really not let me go with my request. While back home, we had spoken to each other a couple of times and really hoped we could meet up, but destiny was otherwise and our plans didn't work out. But hopefully, sometime soon, InShaAllah and that too to a feast in her house… 😉
OK, so I am going on and on and not even talking about the person in question! Shazia, who blogs at "From My Kitchen" is giving some little shakes to the blogging world with some of her sinful (please tell me a deadlier word!) sweet ideas as well as her out-of-the-box savory dishes! At times, I feel I need to give her my blog title. 😀 I am losing my sweet tooth gradually… hehe… Her recent ice cream post had me running for shelter. Not to mention her beautifully shaped Coconut Bread, her blogoversary special Chocolate Ferrero Poke Cake, her interesting rendition of Chemmen Kakkarotti, or her beautifully arranged Pistachio Saffron Drink – each and every dish of hers is created and clicked in a very unique way. If I have tempted you by sharing just part of the sinful stuff I have shared here, I am wondering how you are going to feel about the dish she has bought along with her today! I can't stop drooling just looking at the pictures… so tempting that I have already put on weight salivating by reading and looking at her post! 😀 Let me then leave you all with her then… 😉
Pin
I'm so glad to be a part of Rafeeda's "Be my guest series" Yay, Atlast i'm here too! Thank you so much Rafeeda for this opportunity to be here in your great space!!When talking about this blogger i'm short in words indeed. MashaAllah! you are such an enthusiastic and humble person i'v ever met and who always ready to help even without  asking!No wonder why every bloggers have the same words to speak about you!I really wonder how she used to manage everything so neatly and well organized!To click and edit is not a simple task along with all other works,hats off to you !
Pin
I  felt so happy when she asked me to do a guest post for her blog. My apologies for the delay !It was during Ramadan she approached me for a guest post for August month,but due to my vacation i missed it. So sweet of her, as she said i can do it even after vacation if i'm busy, so relieved at that time, thank you once again here for understanding me. She helped me a lot in many ways and i'm always thankful for that!We wished to meet during vacation, but due to the hectic schedule we missed it.In sha Allah next time for sure. She was my first blogger friend too!
Pin
Now let me introduce a little about bit myself -I'm Shazia an Indian food blogger who blogs at From My Kitchen , currently residing in Saudi Arabia with my small family. I started my blog just to archive my recipes and with the intention to share it with the passionate foodies !Now blogging and food photography is my passion and it is something that i'm enjoying the most these days!I love to explore new cuisine and experiment them in my kitchen!I love Baking,it's like a stress buster for me!!Like many of you, desserts are my weakness too! So you can find many desserts as well as other innovative and fusion recipes in my blog!
Pin
When a big sweet tooth person asked me for a guest post, without thinking much i choose a dessert recipe for her.But still i want to share something special to my dear friend so here comes the dessert taco with yummy twix cream.It has a crispy sweet taco shell with creamy filling with all the goodness of chocolate and twix. A dream dessert for a dessert lover it is!Without further delay let's check the recipe.
Taco Shell Recipe  courtsey: Gemma Stafford
Ingredients
2 egg whites
1/2 cup sugar
3 tbsp milk
1 tsp vanilla
pinch of salt
2/3 cup all purpose flour
2 tbsp butter
For Twix Cream
2 sachet whip cream powder
1/3 cup milk
1 /2 tsp vanilla essence
1 tub fresh cream
4 twix fingers (chilled and powdered)
Chocolate Ganache to drizzle on top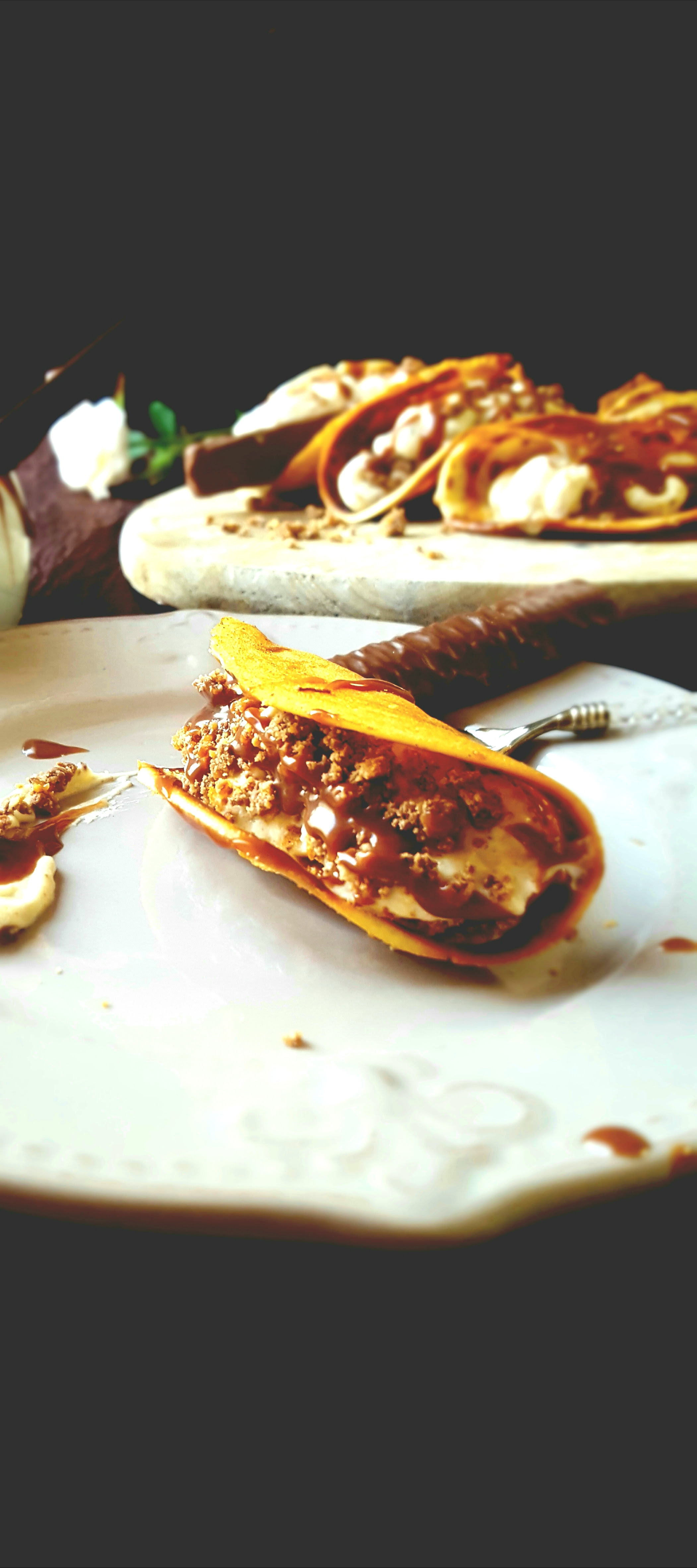 Pin
Method
For the Taco Shell:
Whisk together egg whites, sugar, milk, vanilla, and salt into a mixing bowl and  Stir in flour and butter until fully incorporated and batter is smooth.
Place a nonstick  frying pan on low heat.
Scoop 1 generous tablespoons of batter into the pan over low heat and spread into a thin even layer. Move it around fast to get a nice round shape. Spread it out 5 inches x 5 inches.
Place the pan over medium heat and cook for 3 minutes or until base has set. Flip and continue to cook for 1- 2 minutes.(Do this very carefully using a spatula)
Lift the disc out off the pan and QUICKLY and carefully lay it over the handle of a thick, round wooden spoon. Guide the shell with your hands to make sure the sides of the shell are even. Hold it for a few seconds until it hardens and then leave it there to cool. Use a heavy pan or book to keep your wooden spoon in place. This must be done quickly as the shell will begin to harden immediately after leaving the skillet. Set up the wooden spoon before your start cooking off your tacos.
For Twix Cream
Beat togehther whipping powder and milk,When it becomes soft peaks add in fresh cream and vanilla essence and whip it well until fluffy.
Add half of the powdered twix chocolate and fold in.Chill it in refrigerator
Assembling
Fill the sweet taco shell with twix cream,good sprinkle of twix powder and a drizzle of fudgy chocolate ganache!Serve it immedietely for the crispy and creamy deliciousness!
Notes:
While flipping and shaping the taco shell be very gentle and careful
When it's done leave it to cool completely for a crispier shell.
Prepare the cream first and chill it in refrigerator,When the taco shell is ready fill and serve.
You can also serve it with ice creams,fruits and custard or any other filling of your choice.
Happy Cooking!Hope you all will enjoy this recipe as much as we did!
Regards
Shazia!
Pin
I am in chocolate heaven with these pictures! Hehe… each time I was working on completing this post, I would just scroll down in full speed to stop myself from heavily salivating. JazakAllah Khair Shazia for putting your heart into this post.. I don't need to tell you how much I loved it!
Hope you all are having an amazing weekend…