Don't we always need reminders to keep us positive as much as we can? Here is one, Alhamdulillah…
Pin
Coming to the recipe for the day… Most of the bread pudding contains eggs, just like some of them I have shared, though there are some eggless options as well. If you love bread pudding, then do browse through the ones that are already on the blog:
No Bake Crunchy Pineapple Bread Pudding (Eggless)
Bread Coconut Milk Pudding (Eggless)
Raisins Dried Apricot Bread Pudding
Since I love bread pudding and bread is always a staple in the house, I always look out for interesting variations to try. I am actually surprised that I have never made a bread pudding with chocolate, so that must be up the sleeves to make soon! 😉 I had made this pudding during a get together of my friends. They all enjoyed and appreciated the pudding. It is so easy to make and is a perfect get-together dessert, that can be put together at the last moment. Those who regularly follow the blog surely know that there are sufficient dessert ideas on this blog. Bread puddings are always better served warm, as it is or with a topping of some sauce or ice cream! Off to this super easy recipe…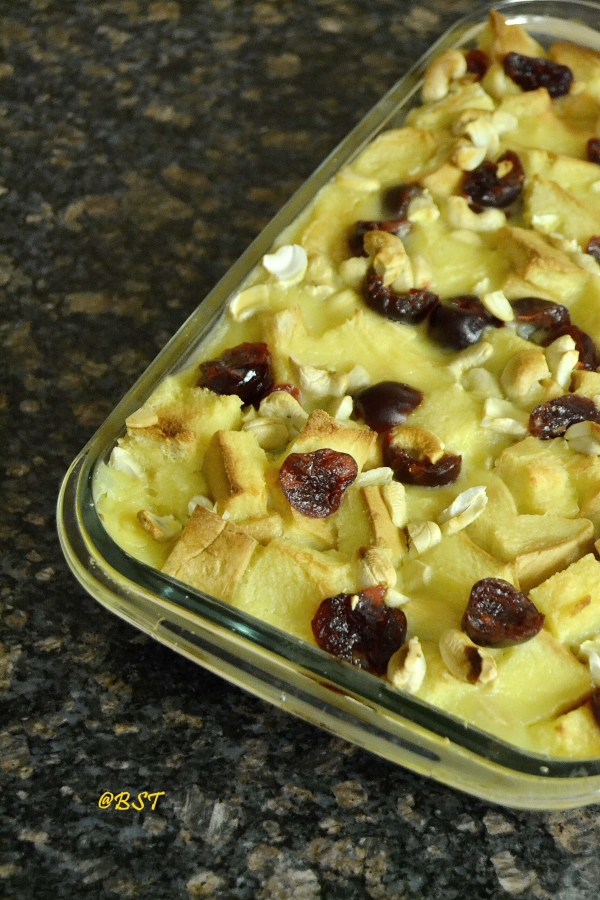 Pin
Eggless Bread Pudding
Ingredients
12

small slices of bread or 6 large slices of bread

*

800

ml

milk

2

tbsp

custard powder

1/3

cup

sugar

Cashew nuts and cherries for topping
Instructions
Preheat oven to 180 degrees.

Chop the bread into pcs and spread across the baking pan. I used a 1.8 ltr glass pan. You can increase or decrease the slices of bread depending upon your pan.

Sprinkle the cashewnuts and cherry all over the top.

Combine milk, custard powder and sugar in a saucepan. Cook on low flame till the mixture gets glossy. It will not thicken like how custard would be but you would get a glossy mixture.

Pour over the bread mixture evenly and let stand for around 10 minutes.

Bake for 25 minutes. Serve warm as is or with some ice cream!
Notes
I used 6 small slices of bread + 3 burger buns for making my quantity.
You can top with anything - raisins, almonds, etc. I chose to top with 1/3 cup tinned cherries and 1/3 cup chopped cashew nuts.
Posted on this day:
2014 – Eggless Crème Brulee