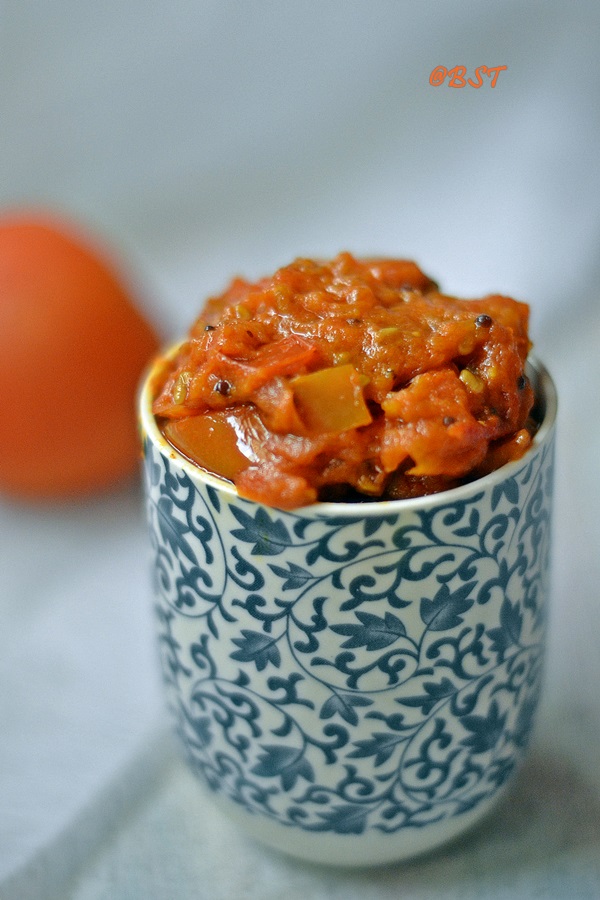 Pin
If you had seen something red peaking out in my Ari Dosa post, then it was this delicious "Thakkali Thokku". Thakkali Thokku is basically a tomato chutney prepared in parts of South India – not Kerala though 🙂 – and goes amazingly well with anything – chapathis, as side for rice, with dosas and idlis. You name it, it goes really well with it. I am not a tomato fanatic but somehow blogging tempts you into staring at certain recipes and it keeps replaying in your head till you make it. That's how the Thakkali Thokku happened and now keeps happening when tomatoes are available at a good price. I don't need to tell you how expensive these red roundels have become off late!
Pin
The best part about this recipe is its adaptability. I have kept it as mildly spicy as possible for my whole family to enjoy. Alhamdulillah, the kids did love it too, though they would pick out the tomatoes in their food! You can increase the level of red chilli powder as much as you can take it. While doing my research, I found that there is a difference between the Tamilian version and the Andhran version. The former uses onions in their thokku and is mildly spiced, while the later does not use onion and is heavily spiced. I chose to keep myself in between though. 😉 Even the cooking of the tomatoes is upto you. If you like chunks and a little sweet, then you can stop cooking when the stage is reached, but if you are like me who prefer a pulpy texture, then cook till it is nicely mashed.
Whatever said and done, I have to tell you about the aroma. It IS amazing! The satisfaction simple foods can give you is once again confirmed by this delicious pot of relish. Whether you love your tomatoes or no, try it once. You will definitely not regret! 🙂
Pin
Thakkali Thokku ~ Spicy Tomato Relish
Ingredients
4

large tomatoes

600 gm

2

tbsp

oil

1

tsp

mustard seeds

1

tsp

fenugreek seeds

A fat pinch of asafoetida

1 1/2

tsp

red chilli powder

1/2

tsp

Kashmiri red chilli powder

1/4

tsp

turmeric powder

A pinch of sugar

Salt to taste
Instructions
Chop the tomatoes as fine as possible.

Heat oil in a big saucepan. Splutter the mustard seeds and briefly fry the fenugreek seeds. Let the hing also fry.

Add in tomatoes with some salt and give it a good toss.

Get it cooking on low flame, stirring it occasionally. The tomato will start releasing its fluids and then slowly start drying up.

Add in the powders and give it a good stir. Continue to cook till the tomatoes are fully mashed and the mixture is almost dry. Adjust the seasoning by adding sugar and salt.

Switch off and cool completely before storing it in a sterilized bottle.
Notes
If you wish, you can add one onion, minced in the beginning before adding the tomatoes. Rest all process is the same.